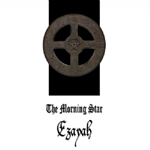 Self-Released – 2010 – Turkey
Ezayah released their 3rd album with a plain cover, album has the known Ezayah athmosphere. This project was known as a single person project of Emrah Karadağ, but this time a person called Melih Pekinbaş joins.
I always like Ezayah's unique athmosphere and black metal technic used on ambient infrastructure. Recording quality gets better album by album. Guitar tones, vocal effects etc. are similar to the other albums, especially "Wintersky", but drum tone and programming is different.
Ezayah has its own style now. For example, if someone listened to "Wintersky" album and listen to "Within The Dimensions I Travel", he can say "That's Ezayah man!". My favourite songs are "Within The Dimensions I Travel" and "Hep Siyah(All Black)".
In this album, there are 3 songs with Turkish lyrics: "Ay Çocuğu(Moonchild)", "Hep Siyah(All Black)" and "Açık Rüya(Clear Dream)". This is what I want to see, I love black metal with Turkish lyrics. Many think this isn't appropriate, but it is!
Clean vocals are better and more fitting to the songs. To give an example about clean vocals, let's take "Raise Your Hands Through Darkness", an ambient song in the album, think of northern black metal bands' style and combine that with eastern melodies, and that is the result. As a good ambient listener, I found it successful.
This is an Ezayah album that I can listen many times. It has dark, depressive and emotional athmosphered. I think Ezayah will get attentions of the labels who seek talents in East. You can buy the album, with limited quantity from Ezayah's website.
7.5/10