Thrashfest 2010, Vienna, Arena @ December 3, 2010
Would you say that this Thrashfest 2010 tour could be sort of like a continuation of the legendary Clash of the Titans from 1990?
Gary Holt (guitar): These are two totally separate things. It's just a big thrash package, that's how I look at it. Thrash metal fans are getting the money's worth for sure getting three veterans and an up and coming young band all in one show. That's really fucking awesome.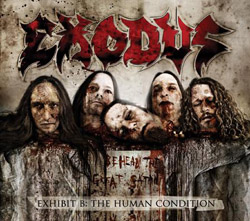 By the way, how come you didn't make it to the Clash of the Titans tour back then?
'Cause we did the Headbangers' Ball tour which was huge. That was one of the biggest thrash metal tours ever done. It was us and Hellowen – and it was killer!
And what do you think of the Big Four tour? In your opinion, are those four bands the real Big Four? Or could it be extended to the Big Five, Big Six, Magnificent Seven or something like that?
Magnificent Seven, ha ha! They're the four that sold the most records so they're the ones that achieved the most popularity. So, Big Four, yes, certainly. But I don't really waste any time thinking about that shit. So the Big Four is the super huge, gigantic one and the other three. You know, Metallica, the biggest metal or rock band of all time, so the really big one and the big three.
Was it intended to bring out "Exhibit A" and "Exhibit B" separately? What is the concept of the two records? What connects them besides the titles?
It's just because we had too many great songs to put physically on one album. So we decided to release it in two parts. They're linked musically by the intros and outros of the record but they're two different records and they stand alone.
You have also released "Let There be Blood – "Bonded by Blood" re-recorded, that is – in memory of Paul Baloff. What do you think about re-recording old school classic stuff in general? Do you think it makes sense?
Yeah, if you do it right. I think we did it right. Some people aren't going to like it, some people are going to like it but it is what it is and I think it came out great.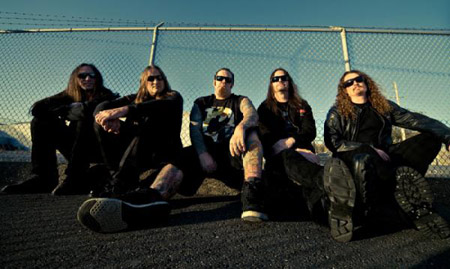 Some footage of "Let There Be Blood" has been dome by Karyn Crisis. How did you get to know her?
Crisis toured with us and she actually dated our former manager for quite a few years. So she did some photos for us, yeah.
I know that Crisis doesn't exist anymore but what is Karyn doing right now?
I have no idea, I haven't seen her for a long, long time.
One of the recurring topics of your lyrics is politics. How do you view the current situation in the USA and in what direction do you think the world is going right now?
You know, republican, democrat, I think it's all going in the wrong direction. At least there is a glimmer of hope because Meg Whitman wasn't able to buy the seat as governor of California. She spent like 160 million dollars of her own money with no experience in politics whatsoever and lost, so that was good. But I don't think anything is going on the right direction.
Your "Shovel Headed Tour Machine" was recorded in Wacken in 2008. I have been there and I also found your show memorable enough to be recorded and released in this way.
Yeah, it was awesome. Fucking killer show, great response, one of the biggest festivals in all Europe and great performance all around by the band. And since it's already all pro shot – multi camera, multi track audio – we decided to put out the first official live DVD.
What do you think of the current thrash metal wave and of these new bands? How long do you think it will last and what will be the future of the scene?
It's hard to say. There's a lot of young great bands out there. Will they be around in 25 years? It's also really hard to say. We're fortunate that we're still here and we're just going to keep doing our thing and doing it 'till wheels fall off, ha ha!
Your song or album titles like "A Lesson In Violence" or "Good Friendly Violent Fun" are often cited when people talk about the stuff that you play. Do you think it's the right way to describe your music?
Fuck yes. Exodus is all about violence but we're also all about fun, so you just mix 'em together and there you have it.
Which scene is better in your opinion, the American or the European one?
That's a hard question. I mean, right now bands like ourselves are definitely more popular in Europe but home is where the heart is, you know. I'm a California boy, born and raised, so I'm always going to be partial to my homeland. But we love coming over here, just don't like the weather right now, it's a little bit too cold for me.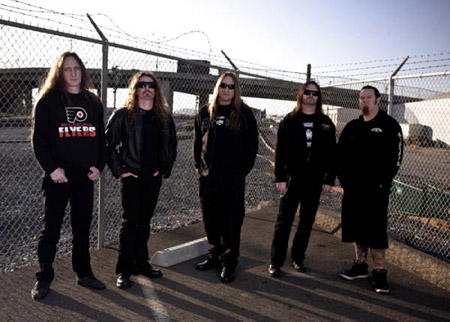 What are your plans for the rest for 2010 and for early 2011?
After this, we go home for the holidays. Then we take up on the 70.000 Tons of Metal cruise. That's going to be be just fun. Then we'll actually have a little time off most of the Spring 'cause Lee is going to Europe in March with Heathen. I'm actually looking forward to having a couple of months at home.
Does that mean that Lee is able to find enough time for both bands and that one doesn't disturb the other?
No, it doesn't at all. Like I said I'm looking forward to a little time at home and if he has the energy to do it, he should go for it. For me, one band's enough, this one kills me sometimes, ha ha! That's always worked out fine.
So you don't have any other bands or projects besides Exodus. What about the others?
Rob does, he's got a band called Generation Kill. Jack and Tom have a bluegrass band but Exodus uses up all my time, I don't have time for anything else, really.
And what exactly this 70.000 Tons of Metal cruise is?
Well, it's going to be 40 bands on one giant cruise ship full of metal heads. It's going to be awesome. Five days from Miami to Cozumel, Mexico and back. So it's going to be awesome, I can't wait.
www.exodusattack.com
www.myspace.com/exodus