Reviews
EVOKE THY LORDS "Escape to the Dreamlands"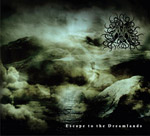 Stygian Crypt Productions/Backfire Productions – 2008 – Russia
Evoke Thy Lords was formed in 2002, in Russia. After some live shows, they decided to record their own materials and released their album in 2008.
I listened so much folk metal and doom metal bands from Russia. But now I'm listening completely different album. Shown up with qualified digipack, I like the color tones of the album cover and the band logo…
Evoke Thy Lords doing doom metal with melodic death metal effects. Also, they use flute as a folk metal effect. All this situations make band's kind special for doom metal.
Brutal vocals of the album sounds like German Crematory's vocalist Felix. They also have female vocalist, who is suitable for classic doom/gothic bands. Personally, I don't like female vocals, but she did her job well.
Rich musical stuff, I can suggest that album for the people who like this genre.
8/10