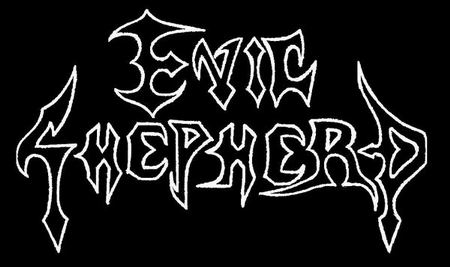 Evil Shepherd are the hooligans from your neighbourhood who dress in tight jeans, consider high top sneakers the height of fashionable footwear, and worship Megadeth. They also happen to play blistering Thrash Metal and have a thing for milkmaids. Don't you love them already? The band has a crude demo out called "A History of Violence" and it's rawer than the meat in your freezer. Sodomizing Extreminal's questions: The thrash legends of the future, Evil Shepherd, getting their groove on about last Christmas, Hellgium, and Terminator.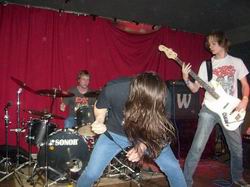 Evil Shepherd? Belgian Thrash Metal right? Hope you didn't wait too long for this interview to finally happen. How did you start the New Year?
De Maes (guitars): The holidays were great for me. I had to work on New Year's Eve though but I partied later that night. I also had to work on Christmas Eve and I had a great meal later.
Wesley (vocals): Hahahahaha! Yeah, fuckin' Hellgium Thrash Metal from Terjoden!!! My holiday? Ugh! Too short I think, but it's better than nothing!!! And nope, no new drum kit under the Christmas tree for me, just normal shit like every year!!!
Tömmy (bass): Evil Shepherd is True Kult Denderbay-Thrash from Hellgium! Personally I was sick during the holidays, I had the flu. So they weren't exactly very fun for me. But I'll probably be treating myself to some beers and maybe a new effects pedal for my bass.
Your latest, "A History of Violence," is named after that movie adaptation of a graphic novel. Am I right in making this connection? What kind of violent history is Evil Shepherd sharing through its music?
Jonah (guitars): The song "Till Death" was actually first named "Religion Is Terror," the title changed but the lyrics remained and that says it all, right? "Ritual" is just plain butcher stuff, evil and satanic, hahahaha! "Apathy" has a little bit more meaning, it's about no-one sticking their necks out for anybody these days. As for "Evil Shepherd: The Cult of the Evil Messiah and Total War"… well, no comments on this one! Mix this shit all together and the outcome is "A History of Violence"!
Wesley: I've never seen that movie! It's a song from us, but it isn't recorded on the demo. On the next demo you will hear the song and other shit. Old school violent Thrash Metal and Death Metal is the fucking shit and I think that's the main influence for us.
Tömmy: To be honest I have never seen that movie apart from the trailer. The demo doesn't have anything to do with it at all; we just thought it sounded cool.
Who was responsible for the lyrics and music? Was it a group effort where all of you gave each other headaches or is there just one Dave Mustaine in the band making the hard decisions?
Tömmy: The music is always written by our guitarist Glen "De Maes." He then takes the basic song to rehearsal and from there I'll write a blasphemous bass line and Wesley will bang the shit out of his drums for it. In the mean time Jonah has a shitload of evil satanic scriptures ready to scream upon our tunes of torture.
Wesley: Yep, that's right!!
Where was "A History of Violence" recorded? And why is the production so goddamn raw?
Tömmy: "A History of Violence" was recorded in our rehearsal space "De Kleine Melker." It's a pub with a big room in the back where they sometimes have schlager shows. And concerning the production…well, we're just filthy, raw bastards!

How far does Evil Shepherd have to go before getting everything together to write and record a first album?
Tömmy: We're actually writing and playing songs constantly. Right now we've got about 10 or 11 songs that are completely finished.

One of you is named "Terminator." Is the band looking forward to the new Terminator movie starring Christian Bale? What makes terminator's bass playing unique?
Tömmy: Actually, it's "The Tömminator" and I am a bass playing robot from the future, here to destroy humanity with my four strings of sodomy so us robots can rule the world!
Wesley: Yeah, he's the best bass player I have ever played with! I'm the drummer and we are one in the band!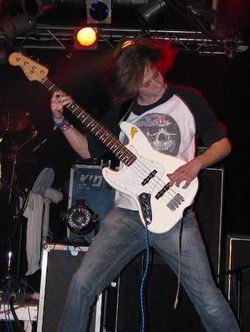 If each of you add up all the hours you've individually spent practicing on your instruments and doing all sorts of rehearsals, how much time has the band dedicated to improving its musicianship?
Tömmy: I really can't give a concrete answer to that. But let's just say that there's always room for improvement.
How many pairs of tight jeans does each member have? How about denim jackets? Sneakers? Bullet belts?
Tömmy: Most of the time I just look like a regular guy in the street—fuck fashion! But I must say I used to have my patch-covered denim jacket, white sneakers and bullet belt myself.
Wesley: I have two pairs of tight jeans and three pairs of white sneakers. My denim jacket is covered with patches and buttons and I have one bullet belt and of course a leather jacket.
What do your parents think about Evil Shepherd?
Tömmy: My dad enjoys visiting our shows and getting drunk, my mom doesn't mind that I play evil Thrash; but they all hate the music.
De Maes: My parents think we're really good. On our first gig my dad almost started moshing and he might join the pit at our next gig.
Wesley: My parents don't say too much, they are just glad I love Metal and Rock n' Roll and not all the other crap in the world.
Are all of you working already? What else keeps the band busy aside from, well, the band?
Tömmy: I had a job interview earlier today and I just got a phone call about 30 minutes ago that they're going to hire me, so hurray for me!
De Maes: I work at Securitas, it's a security company.
Jonah: I've been working for three years because Evil Shepherd won't pay the bills for just now!
Wesley: I'm searching!
Where do you live and what is the local scene like? Played any shows recently? How long has Evil Shepherd been paying its dues?
Tömmy: We're all from various towns near the Denderstreek. Thus the name "Denderbay Thrash" since there's been quite a few Thrash bands emerging from this region lately. Right now we've only done one show; which was very awesome. It was my first gig ever and I had a lot of fun. There's something about seeing people crowd surf during your sound check that makes you feel good. We've been together since September 2008; so that's nine months now. We're doing pretty good for being together for such a short time.
Wesley: I live in Nieuwerkerken, a part of Aalst. We just play the songs we have and we can bring a great show like big bands do but if the public doesn't go crazy we can do nothing, but I think when we play on some fucking great gigs there will be no problem. Of course we aren't standing there like frozen sperm heads, well, I'm the drummer so yeah, but the other band members there are moving around. I think the music is more important than the show.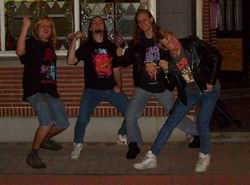 Does the band already have a substantial following, with a dedicated group (or groups) of people showing up for your gigs regularly?
Jonah: Yeah, a couple dudes that follow us if its possible for them to get there, but no die hard fans who keep following us everywhere…Yet.
So when did Thrash metal come into your lives? Care to name favourite albums?
De Maes: Thrash became part of my life when I was 15 years old. But I also listen to a lot of Brutal and Old-school Death Metal. My favorite Thrash bands are Razor, Dark Angel, Sodom, Kreator, Witchtrap, Exodus, Tankard and Pandemonic. Favorite Death Metal bands are Possessed, Pestilence, Grave, Entombed, Malevolent Creation, Krisiun, Suffocation, Nile, Necrophagist, Monstrosity and Terrorizer. I'm also a big country fan; some of my favorites include Carl Smith, Kevin Fowler, Brooks and Dunn, Lynn Anderson, br549, Moe Bandley and Joe Stampley.
Tömmy: I think I started listening to Thrash when I was about 16 years old or something. Some of my favorite bands are Megadeth, Whiplash, Forbidden, Deströyer 666, and Sodom. Though I don't listen to thrash as much as I used to, I really enjoy playing it. Right now I tend to listen to a lot of punk, rock 'n roll, free jazz, blues, stone, doom, and drone.
Jonah: when I was about 17 I think, I discovered my all time favorite album by Whiplash, "Power and Pain: Ticket to Mayhem." Other bands I like are Sacrifice, Massacre, Autopsy, Hallows Eve, etc.
Wesley: Hahahahaha! My favourite group is AC/DC and it will always be AC/DC. I started listening to Black Metal and after that it was Hair Metal like Motley Crüe, Britney Fox, Dokken, and then I began listen to Thrash Metal: Megadeth, Overkill, Whiplash… But I still love some good old school Hair Metal!!!
Let's move to gear now. What kind of amps, guitars, effects, cymbals and torture instruments are found in the Evil Shepherd arsenal?
Tömmy: I use a Fender Jazz Bass (Mexican) and a Roland Cube-100. But since I've got a job now I'll be buying a Traynor YBA-200 head and an Ampeg cabinet.
Jonah: for rehearsals I use a PA from Peavey and a Mic from Samson, but for gigs I never have to take something with me.
Wesley: I use a Sonor Force 2001 drum kit with Paiste and Sabian cymbals. My bass pedal is a Janus Ergo Pedal from Mapex Industrie.
How much is a pint in Belgium? And what kind of atmosphere do your pubs usually have? Would there happen to be any metal pubs you'd recommend?
Tömmy: If you're lucky it's 1.50€ but mostly it's between 1.60 and 1.80. Sometimes 2€. Where we live we often go to den Negasonic or de Rocks.
They are the primary metal and rock bars in Aalst. They have the best music, regular gigs and it's always a lot of fun.
Do you go to concerts often? How much do tickets usually cost?
Tömmy: The next shows I'll be visiting is The Supersuckers and Nashville Pussy, then The Eagles of Death Metal and Testament with Megadeth and Judas Priest. Prices vary but mostly it's about 25€ on average. There's nothing like bangin your head off or getting bruised in the pit with other mad maniacs!
Evil Shepherd…hmmm…you guys like farming and hot milkmaids?
Jonah: If she's willing, always! Hahahahaha!
Wesley: We like 'Frieten' and beer and 'Pitta' and 'Pizza.' Basically all the shit that isn't good for our liver and cholesterol.
Is there a World War 1 monument near the place you live? Ever visited it?
Tömmy: Most of the World War One monuments are located in Ieper, which I have visited quite a few times when I was younger.
Alas, this interview must end. Thanks for subjecting yourself to this interrogation. How soon is the next band practice?
Tömmy: I believe it's tomorrow actually! And thank you for doing this interview. It has been a pleasure answering your questions.
Wesley: The next practice happens when the other guys call me, hehehehehe… Normally we practice two times a week on Tuesday and Saturday. And yeah, thank you for the interview. It was great to answer these fucking questions!