Hello there, we're corresponding for a long time. I approximately know you. I don't know how is the weather in Bulgaria, but we became fried meat here :)) Anyway… First, can you tell about the band's development preiod after 2003 for our readers?
Niki: Greetings to the readers of Extreminal and to you, my friend. Here the heat is just as scorching as in Turkey, I believe. The air pressure inside my empty overheated cranial box is almost unbearable. I'm trying to sleep during the daytime, doing my deeds in the night. Blessed are the Goths and the vampires for living this way all the time. You're sending me on a long trip back in time with this question, making me reliving those fine moments of my life. Back in 2003 I was an young metalhead with the will to create a band of my own, playing music that would be just as want it to be. No style boundaries and no compromise. I spend a lot of time looking for the right fellows, but once I found them Eufobia was established, and that same lineup manage to endure so many years after. No person ever left the band, only one more, Ivan, came to join us, and I'm damn proud of that fact. Our unity makes us strong enough to endure, as it was hard all true the way. We were not quite active at the beginning and for that reason we have almost no success until 2008, when we started some real touring over the Eastern Europe first and later to the west. We shared the stage and the tourbus with such bands as Onslaught, Sinister, Dark Tranquility, Malevolent Creation, Negura Bunget, Suicidal Angels, Krow, Carnal, Agathocles, Parricide, Abusiveness and many more fine metal bands that we have learned a lot from, having a great time together with most of them. We also have two official releases: "Insemination" 2010 and "Cup of Mud" 2011. I think that it's not a bad achievement after only three years of real working, but I'm sure that the best is yet to come.
Your album called "Cup of Mud" has been released a short while ago by the label of Wizard LTD. I also told about it's success in my review, congratulations. You have a demo called "Cup of Mud" which has been released in 2005. I saw that the same songs took part in the 2011 album too. Did you record those songs again, or arranged them?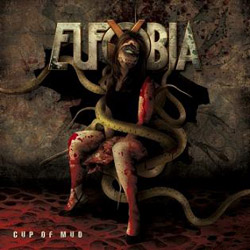 Yes, indeed. Thank you. I really like what you wrote about the album, and fortunately you're not the only one who thinks that way about it. Almost every single review issued so far in the metal media worldwide is quite positive and I have no reason to believe that this pattern would change. What is making me even happier is that we started to receive a lot of positive feedback from metalheads interested in the band. A lot of mails have been received on our e-mail and a lot of messages on facebook. That's great, because this music is created for the people after all and it's good to be able to communicate with them, thus knowing what they like or dislike about the music. Listening to what the people are saying is helping us to improve. You know how much I enjoy communicating. Some great friendships may start this way. For this release we had the unique chance to use what we have learned and to explore new concepts remaking the songs of our demo from 2005. We always felt sorry that back in those days we simply have not enough money or experience to record those songs the right way. Now those fine musical ideas finally sound as they should, and the people clearly appreciate it. Those who have both those record could see this huge improvement for themselves. Everything was changed for the better. The sound, the arrangements the lyrics. Everything.
According to the agreement between WIZARD and TWILIGHT, the album will be distributed in September all around the world. What do you think about that?
Twilight-Vertrieb is one of the leading distributors in the world and we're happy to have such a major company dealing with our distribution. We have to thank to our label Wizard for that. This way our music could reach much more people, which is our intention, and that's the right way for us to move on. However everything is still in our hands. We're the ones who are playing and creating this music, and we could be among the successful only if we're giving our best in every concert, video or record session. There's no way of cheating the metal public. They shall accept us only if we're good enough and no fancy label or distributor could ever change that.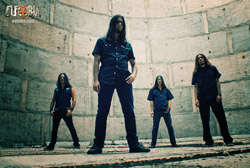 You were going to come to Turkey nowadays, but I think it's been canceled. Are you planning for a tour after the releasing of the album? Are there any definite dates?
Unfortunately our supposed show in Istanbul has been canceled, and what's even worst is that it is the third time when our shows in Turkey have been canceled. Bad karma probably. I shall not hide my disappointment. I heard only good things about the Turkish metal public and we were anxious to perform in front of those people, and we hope to be able to do it soon. It's a shame that we never played in Turkey, as the country is just outside the border. So close, but still unreachable. Damn. We really have to do it. And we'll do, so get prepared. Last year of 2010 we were touring a lot, and so we were back in 2008. This year it happened that we were taking mainly single shows or minitours over Bulgaria and Romania, as the tour dates that we thought that were surely confirmed for the spring were canceled. We're planning a minitour over ex Yugoslavia and a bigger one over the Balkans at the autumn. Also some festivals appearances are confirmed. A really big tour is planned for the spring of 2012, but we'll see. Nothing could be sure until it happens. Many dates or tours of ours have being canceled during those years, but many others took place, so we have no reason to regret with almost 100 live shows behind our back so far.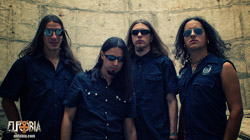 The genre of the band is called "Death'n'Roll". It's an estimatable, but also a different style for lots of people. Can you define it completely to the people?
All of us are listening to all sorts of subgenres of metal, and thus we experience many influences, so it's quite natural the music that we're creating to be quite different from the ordinary. That was the main idea when we created this band. Not to follow the established rules, but to free our mind and to trust nothing but our own creative fantasy. Surely it could have been much easier for us if we were trying to stick to an established genre, but we have chosen the freedom of expression instead. I'm not so sure if our stile could be fairly described as Death'n'Roll, but such a description at least is giving a good idea of what it's all about. The best way for the people to understand what it is indeed is to take some time to listening to our music, available online at our website www.eufobia.com.
Before the album, I listened to your band first when I publicized the video of the song "Cruel Child". With this song, a positive view appeared in my mind about your band. This song also took part in the split album that released in the number 32000, which is given in the 70th issue of the German fanzine called LEGACY and the split album of Serbian NOCTURNE MAGAZINE. How was the feedbacks?
Thank you once again for the kind words. Yet again you happened not to be the only one who likes this song. Luckily for us Patric from Legacy and Marko from Nocturne Magazine gave us the chance of getting our "Cruel Child" track into those compilations having our name, between such band as Legion of the Damned, Belphegor, Kypck and so on. As you know Legacy is one of the biggest metal magazine in the German speaking world, so being a part of their compilation means that 23 000 German metalheads have the chance to listen to our song. It was a huge chance for the band. We gave an interview for Legacy, published in the same issue, and the best part is that in September we'll have another track in their future compilation and yet another interview published. Having the same track as a part of the Nocturne Magazine compilation shall not be underestimated. This is the leading metal magazine in Serbia and ex-Yugoslavia after all. Also the whole compilation is a killer one, with many fine bands and great songs, so I enjoy listening to it a lot. Yet again the feedback was good, and even some doors were opened for the band because of that.
The album "Insemination" was released by the label of Romaian label AXA VALAHA PRODUCTIONS in 2010. Then you made an agreement with WIZARD LTD. Was this agreement for only 1 album? Who didn't want to continue, you or them?

Actually we're still working with Axa Valaha and our good relations remain intact. They are the official distributors of "Cup of Mud" in Romania after all. We're going to meet with our good friend Coro from Axa Valaha this Saturday, as he was the one who arranged us to play in OST Mountain Fest in Rasnov. Axa Valaha kind of switch places with Wizard, as for "Insemination" Wizard was the official distributor for Bulgaria and now it's just the opposite. Wizard of course has much more connections established over the years and we're happy to work with this company for this release. We just have to move on doing always what is the best for the band, but it doesn't mean that we have forgotten the people who helped us to reach to this point. We never do that. We're doing our best to keep any of the people we were dealing with among our friends and to make them feel happy and proud with what they did for our band.
There is only 1 year between your last 2 albums. Did you start to work for the next album, or are you planning for different things like promotions, concerts, etc.?
This autumn we'll go be back to the studio for the recording session of our third album. We're almost ready with it and this time we have a clear concept of how it has to sound like. We have some good experience out of recording those previous two and we're going to use it for the best result. We feel inspired enough and we're seeing no problem of having a new album out every one or two years. See what happened with the famous Chinese Democracy album. We shall not wait for centuries artificially delaying those releases. Waiting for so long before recording "Cup of Mud" the right way was a mistake that we don't want to make again. The music has to be released while it's still new inspiring and fresh. It's not a problem for us to record an album and to tour in the same time. 2010 was the most intense touring year for Eufobia so far, but yet again we manage to record "Cup of Mud". We're not recording the whole album at once. We're doing it on separated studio sessions.
I think thats all for now. Hails to all friends in Bulgaria. Anything that you want to add?
Thank you for the chance our voice to be heard all over the Turkish metal community, my friend. Hails to all the fellows in Turkey. Get prepared, and be there, as sooner or later Eufobia will come to create a true underground mayhem for you.