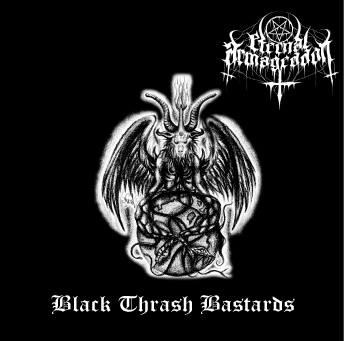 Demo – 2015 – Bangladesh
ETERNAL ARMAGEDDON released in January 2015 their first demo in in-house production. By the way, the three gents are from Bangladesh which is already unusual.
The all in all three songs are a mixture of Thrash studded with Black Metal. Starting with an instrumental song ("Darkness Shalt Reign") which reflects well the bands' musical direction. Raw and unsophisticated without any technical folderol coming straight to the point songs and riffs. They are fresh and unconsumed and have a certain dynamics. In addition the screaming vocals of Asmodeus which fit in well into the overall structure. All mixed this results in an independent Thrash Metal sound which presages the bands' potential. Presented very energetic and nevertheless dark. Very primordial recorded the quality suffers. But, in my opinion, this is not that important at a demo recording. The guys even venture on SODOMs "Blasphemer" which is not a bit that unsuccessful. The guys sowith confirm their potential and their affinity to Old School Thrash Metal. Recorded with a lot of sweat and heart's blood "Black Thrash Bastards" is a proof for that Thrash Metal is even today present all over the world. Listen to the demo. It let hope for more in the future!!!!
8,5/10