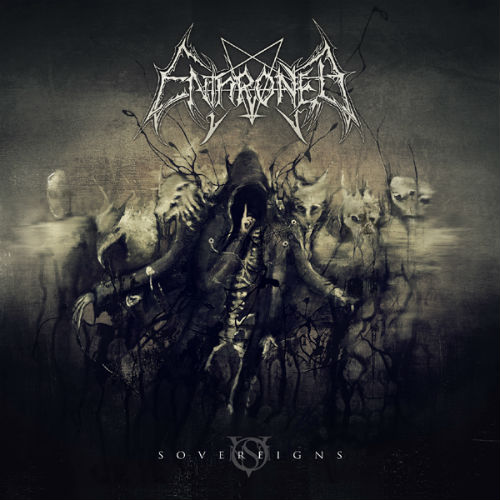 Agonia Records – 2014 – Belgium
ENTHRONED are the old hands of the Belgium Black Metal and probably also one of the most controversial bands. The will release in April 2014 their by now tenth studio album which is called "Sovereigns" via Agonia Reords.
Also at this production the gents offeer us heavy, modern food. Halting riffs which are hard to beat concerning darkness come upon primordial Black Metal. The little short of inhuman fast doubleblast drumming reinforces hardness and coldness of the songs. Riddled with several slower passages originates a pitch-black, very independent musical mixture which is loaded. Small Noise insertions and seemingly chaotic riffs gives "Sovereigns" the ENTHRONED typical experimental sprinkling. Nevertheless the all in all nine songs never loose its Black Metal base frame. Supported by the distinctive voice of vocalist and lead guitarist Nornagest the listener is led into icecold realms of the bizarre kind. "Sovereigns" got no easy to consume cd. But, who expects this already of ENTHRONED? The single songs disclose its multifacetedness only after repeated listening. Professional recorded the songs have bite and sustainability. A firworks of tones drums to the listener which he doesn't forget that fast. The gents planned big things which they were able to implement perfectly. ENTHRONED are successful as one of the few bands to play modern Black Metal in the year 2014 without sacrifice its darkness. Absolutely must-buy!!!!
9/10