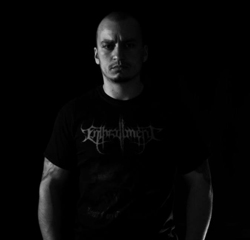 Welcome to the pages of Extreminal!As a starter – introduce your band to our readers ?
Plamen Bakardzhiev: We are Enhtrallment from Bulgaria and we have been playing death metal since 1998. Our band was formed in the summer of 1998 and our first recordings were in 1998 when our first demo "The Scarlet Difference" was recorded. Then we started playing on concerts and still keep on creating new music.
Your new album "The Voice of Human Perversity" was released on 14th of February,2014.Tell us a few words about it – where did you record it,how many tracks,who produced it,etc. ?
We recorded our album in the studio of our drummer – "Murder Sound Studio". We produced the album ourselves. James Murphy did the mastering. He influenced the album with his sound processing. It is a great honor for us that James Murphy mastered the album because he made it sound more dynamical and the instruments sound quite heavy.
What is the difference between this new record and your previous full-length albums ?
Each time we make a new album, it sounds very different from the previous albums even in terms of style. We can describe the new album as pure death metal. We spent a great deal of time on recording the new album, we were recording the songs in demo version and were listening to them and were trying to figure out what we could change.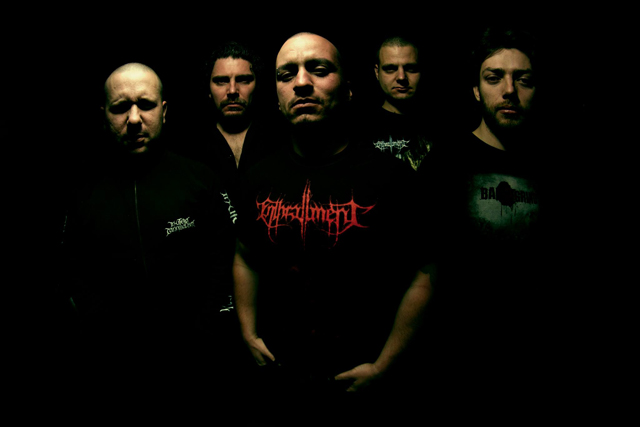 You have four full-length albums in your discography and judging by your metal-archives page,all of your albums have been released via different labels.What is the reason for that ? Is it difficult to find a proper label to release your stuff or you just love change ?
With each new album we want to achieve more. We are always discussing with the labels and we are interested in the way they will release the album. It is important for us to reach more fans. It just happened that our four albums were released by four different labels. We had a contract for 3 albums with Metal Age Productions from Slovakia, however, the economic crisis in 2009 had a huge impact and the label was able to release only one of the albums.
"The Voice of Human Perversity" was released by the German label RTM Records.Why did you decide to work with them and are you happy by your cooperation ?
We are very interested in what the labels will do with our music. RTM Productions & Grindhead Records and Sevared Records – several distribution. These three labels cover major parts of the world and that is why we hope that a great number of people will listen to our album.
Are you planning a tour to support your new album and if yes – where will you play ?
At the present we will have a few concerts in Bulgaria in May. For the autumn we have plans to make a few Balkan and European shows. At the moment we are negotiating with a tour agency to probably make a tour in 2015.
Who did the cover artwork of your new album and what does it represent ?
The cover was designed by our friend – Stanimir Stanchev, who designs covers for other bands, too. You can look at his site www.illogicalconversions.com .We just described to him our concept and he successfully implemented it much better than we could imagine. The face you can see on the cover is "The Voice of Human Perversity". It is surrounded by other faces embodying humanity. This humanity creates this voice. The shadows that can be seen underneath embody our bad thoughts which can not be seen by the others because they are covered by shadows. All this is combined with a background leaving us with a sense of helplessness.
What are your lyrics about and what inspires you to write them ?
Our lyrics refer to life today and to what we face every day. You can look at our official site www.enthrallment.eu in the discography section. There you can find all lyrics of our new album and from our previous albums. There is a huge change between the lyrics from our previous albums and the lyrics in our new album. Major part of the lyrics were written by our guitar player Vasil. All of us have experienced troubled times and we share them with each other and all this leads to our concepts for the lyrics, which later present a broader picture.
Who writes the music in your band ? Is there a main composer or you all contribute to the writing process ?
Each one of us, who has more free time, writes down his ideas. Afterwards, we meet together and combine our ideas and discuss them. We make arrangements and this is how our songs are born. Our guitar player Vasil writes not only a great part of the lyrics but also the music. Together with our drummer they develop the riffs and finally everything sounds much interesting.
How do you see the state of the Bulgarian metal scene ? Any good bands from Bulgaria that you would like to mention ?
There are a great number of bands in Bulgaria playing various styles of metal. Just like us they also meet challenges and want more people to listen to their music. These bands are recording albums, make concerts. There is a metal scene in Bulgaria but work needs to be done in order to improve the quality.
Who are the bands/musicians that inspired you to start playing music ?
Bands such as Deicide, Suffocation, Vader, Slayer, Cannibal Corpse, Immolation and other bands from the 80s and 90s have strongly influenced us to make this type of music.
Final words ?
We keep on making new songs and now we have a material for two more albums. We will soon start working on them.
Cheers from Bulgaria!