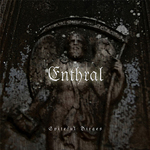 Duplicate Records – 2010 – Norway
I have never listened Enthral before, the band who exists since 1995, actually they published products rarely, seems that there are side projects or private life conditions doesn't allow them to be busy on music, I want to say, there is some issues keeps them away from making albums rather frequently. Whatever, band's style can be called Death/Black Metal, which is a combination of extreme metal and black metal, reminds you bands like Belpgehor, Behemoth, 1349 etc.
With fast and technical drums, broken and 'tremoloed' guitar riffs, agressive brutal-scream vocals, Enthral's EP may get attention on the scene this year, of course if they can make this go on with a nice album.
3 song EP starts fast, finishes fast. 18 minutes of aggression, explosiveness and anger… Enthral vomits death to everyone!
7/10