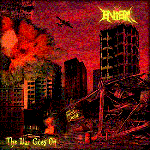 Self-released – 2012 – Germany
The Germans ENTERA are heard from again. Namely in terms of their cd "The War Goes On". It was pblished as usual in in-house production.
The guys show at "The War Goes On" that they did not unlearnt anything with age and that they nowhere near are on the shelf! ENTERA play here Thrash Metal how it should be. Raw and unaltered, with boisterous energy and dedication. Fresh, energetic riffs which are presented thrilling and without any experiments. The listener is here offered the entire pallet of Thrash Metal.Straight and without detours, straight in ya face! Here is pure headbanging the order of the day! Thereby the gents set partial strong pace. The variations in speed and the diversified riffs doesn't let "The War Goes On" stagnate at any time or let it sound old-fashioned. Cheeky vocals and the background choirs round off positively the general picture. Technically impeccable recorded you notice that here were grown men at work. ENTERA know what they want and they establish it also consequently and very successful. For me it is uninteligible that no record label took notice of the band yet. I can only recommend this cd. To buy is here duty!!!