Reviews
ENDOVEIN "Waiting for Disaster"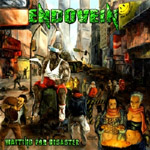 Punishment 18 Records – 2010 – Italy
Endovien can be regarded as a brand new Italian band, they were formed in 2004 and they've released their first full lenght album in previous months from Punishment 18 Records after 2 demos and an EP.
Actually, I expected a classic thrash metal band but it turned out to be very different, the tracks are bit above the avarage amongst alike bands. There is perceptable heavy metal effect on the tracks; as genre, they are like Megadeth but I can say that the vocal is cleaner and higher than Dave Mustaine's. I don't like much this kind of high vocal but it fits the genre, nothing else to be done..
The ones who are looking for something like a mix of 80's thrash metal and modernized, progressive solos might like it, a successful work.
7/10