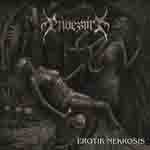 Agonia Records – 2012 – Norway
You actually need make words anymore about ENDEZZMA from Norway. At the end of 2012 they put their opus "Erotik Nekrosis" on the scene.
"Erotik Nekrosis" is little short of a tragic cd. You can hear on it the in 2012 passed away Trondr Nefas (Among others URGEHAL) on guitars. But, let's come now to the music. Here pedominates clearly the dark tones of the old Norwegian Black Metal. But, don't worry. "Erotik Nekrosis" is no rehash of already countless time before heard black music. On the contrary. By arbitrary riffs and the use of samples now and then the production receives its very own personal touch. The all in all seven songs however never loose their darkness. In spite of melodic insertions they appear inapproachable and chilly. The fast changes of melodies and tempi within a song reinforce the independence and inventiveness. ENDEZZMA break the musical Black Metal mould which is becoming. The death in all its facets becomes here literally alive! Synthesizer speckles and very distinctive screams which can once fast change to clean vocals still emphasize this impression. "Erotik Nekrosis" offers innovative and nevertheless familiar Norwegian Black Metal which is without equal!!!!