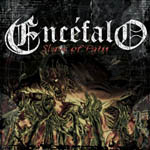 Self-released – 2012 – Brazil
Here I'm listening an album from Brazil. Encéfalo formed in 2002 and released a demo in 2008, then they released their debut full-length in this year.
Production is not well, it sound raw and old-school, also I can say old-school for their music. Their music is thrash/death metal like late 80s bands. This production and music well for that times but not enough for today.
The band should be more innovative, at least for production, still many people like old-school like new bands.
Old-school thrash/death fans, give an ear to this album, maybe you like it.
6.5/10