Reviews
EMBRACE MY RUIN "A Lullaby For A Dying"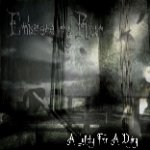 "Embrace My Ruin" is a 7-piece doom/death band with gothic touches from Naples – Italy, consisting of male/female vocalists, 2 guitars, bass, keyboards and drums.
Their demo "A Lullaby For A Dying", recorded in November 2006, contains 4 normal duration songs, full of desperation, sorrow and sadness. It's a very good work that reminded me a lot of Swedish doom/death band Draconian.
Male vocals by Andrea Tilberis, are passionate growls/screams/grunts and are really matching with the emotional darkness and the doom atmosphere, while the female ethereal ones by Tina Gagliotta, are spread within the songs in the necessary amounts to give a gothic touch.
Guitar melodies are everywhere in the songs while the speed is slow enough to satisfy a doom music fan.
The lyrics deal with the desperation of one's soul, the mourning for one's lost dreams and the suicidal thoughts of a mind in solitude.
All four songs sound very very good and I think that the band carries many hopes for a promising future. It is mainly suggested for fans of My Dying Bride, Officium Triste, November's Doom and Draconian.
Trackilisting:
1. In A Deep Silence
2. A Lullaby For A Dead
3. Solitude In Pain
4. Memories Through The Shadows
8/10