Chats
Voices From Underground – Ed Farshtey (Rage Records/Roadracer Records etc.)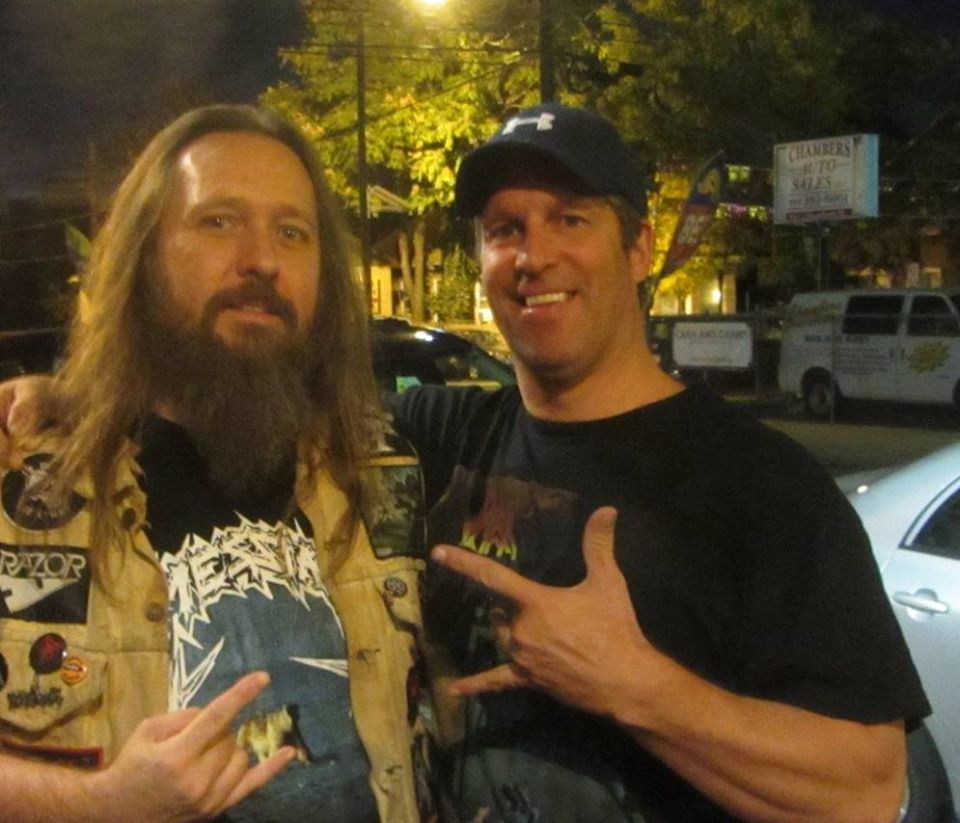 Ed Farshtey is someone I have known for decades through his days of putting out the awesome zine in the 80's The Book of Armageddon, the days of working at Roadracer Records, to starting up his own record label Rage Records and now the shows he puts on up in NY currently. I also discovered some things about Ed I never knew so sit back and enjoy this fantastic interview:
Now I'm not going to go into your whole history, it would be a novel, but have you lived in NY all your life? (this interview ended up turning into so sit back and enjoy it-CF)
Most of my life. I lived in Flushing, Queens, NY from 3 1/2 to 35. Then I lived in Corona Queens for 5 years. I have now been living in Bound Brook, NJ for over 10 years.
Now what sort of kid were you through your high school years? Did you have many friends? Are you still friends with any of them even these days?
You average loner, I had friends at different stages growing up but nothing lasting until high school. But, NOT from my high school. I went to Holy Cross in Bayside, Queens. It was an all boys catholic high school so I went thru 4 years of hating just about everyone in the school. There was one other metal head a year younger than me. All jocks and quidos. I met the other few metalheads in all the area High Schools and most of those guys I am definitely still friends with.
So now what sort of bands did you listen to when you were say 14-16?
That was my changeover from Traditional Metal to Thrash Metal. I turned 14 in March 1983 so I had been heavily into bands like Maiden, Priest, Accept, Scorpions, Krokus, AC/DC, etc and all countless obscure Metal bands I discovered because the album looked good. That year is when I started getting involved in the underground bands from Venom and Slayer to demo bands. In 83 I ordered my first demos from bands thru the mail. Overkill, Nasty Savage, Hirax and Attacker. I started buying tapes from tape traders and by the end of the year I was trading myself.
I know living in NY you had plenty of places to get your fix for metal. So where did you go and did you ever get a chance to go to Rock n Roll Heaven?
I only went to Rock and Roll Heaven twice. The second time was cause Metallica's was doing an in store for Kill em All. The first time I went I had finally persuaded my mother to drive me cause I kept hearing the commercials and knew I could find underground Metal. So that's where it started. I bought Kill em All, Show no Mercy, Black Metal, Heavy Metal Maniac and Ace of Spades. Living in Queens I did have a lot of local choices. The west village was 2 trains away so my friends made weekly treks to the city to go to Bleecker Bob's, It's Only Rock and Roll, Venus Records, Butterfly (for t-shirts) and a few more regular spots we would hit. Even a bigger commercial store for domestic release. Once I started driving Slipped Disc in Valley Stream became my regular spot. Mike the owner would get all the obscure imports and took requests.
Those were the best times I imagine.
They absolutely were. Every trip resulted in finding all kinds of gems. From live bootleg cassettes to new discoveries and new albums from favorite bands. It was the earliest days of Thrash and the underground and everything was new and most of it was fucking great!
Now did you manage to see the Metallica/Raven tour they did in 1983?
Unfortunately, no. I bought All for One on my second trip to Rock and Roll Heaven. Still one of my favorite albums! But my parents still wouldn't really let me go to this club shows.
I missed at as well. It didn't hit South Jersey or Phila, PA area at all. What are some rare items you have in your collection these days if any?
I have dubs of all the classic demos but I don't have actual copies of the really early bands before I ordered the Overkill and other three in 83. Got lots of old vinyl of course. Unfortunately, in 86 when I completely lived Thrash and all the big metal bands were going thru slumps or flat out sucked. One drunken night me and my friend joyfully trashed all my old Metal posters and anything else we could find. And I sold off or gave away most of my vinyl. Absolutely pathetic and sad and I've never forgiven myself and since then I have saved just about every freaking letter, tape, flyer etc I've ever gotten.
Yeah so it was a hit and miss situation for you back then. So now what fanzines/magazines did you buy at these record stores back then? I am sure they helped you out big time in discovering new bands and stuff.
I discovered all the early bands thru magazines and then fanzines. All the major magazines started throwing in bits about Metallica or Slayer and others. Metal Forces and Kerrang were the best and a few other big color international magazines always had a lot of these bands. I would buy any Metal zine the stores had back then. Kick Ass Monthly, Slayer, Metal Warriors, World Report Monthly and others. Opened my mind to all the early Underground bands
Yeah I was the same way. Searching and looking out for any new bands that were out there. So at what point did you decide you wanted to try your hand at being a fanzine editor?
In 85 I started thinking about it but having no idea what to do or how to contact these bands I loved. Luckily my friend Mark Sokoll also had idea of putting together a fanzine. He's a lot more forward and really ran up his mom's phone bill, but he managed to start getting interviews with bands like Slayer, Death, and Possessed. So we put both our heads together and started work on The Book of Armageddon. Which by the spring of 1984 we completed and started making copies of.
I know your a HUGE fan of Dark Angel is that where the name came from?
We took it from Venom. It was on the spine of an old 2 song video tape I had. We just xeroxed the logo.
So give the details, what you remember ha ha, on the coming together of your debut issue. Were you the only writer? Was it done on a typewriter or word processor? Cut and paste sort of job would you say? Whose advice did you seek out doing a zine?
Mark had already typed a lot of the interviews at different times on his typewriter so I typed a bunch of reviews and some other stuff so it looks like it was done on two typewriters. Definitely all cut and paste. We got some pictures and flyers from the bands, I had live pics I took of some of the bands and just put it all together. We didn't really seek out anyone's advice but zines like Slayer, Kick Ass Monthly, Metal Warriors, Metal Mania, Headbanger, Violent Noise and others gave us the blueprints to putting it together.
Now at some point Mark branched off on his own did he not?
Yeah he still did a couple things in issue #2, but I really took the reins and now handled everything. He was getting heavily into Hardcore and started the band Terminal Confusion. We still hung out of course, but he wasn't really interested in carrying on with the zine.
So how big was issue #1? What bands were in it? How many copies did you print up and how did you end up selling them? Did you manage to review many demos and stuff?
Issue #1 was 8 1/2 x 7″ and was 64 pages. We had interviews with Celtic Frost, Possessed, Death, Bathory, Dark Angel, and Gargoyle, all of which Mark did thru the mail or a long distance phone call. We wrote several show reviews including Venom/Cro-Mags/Voivod at The Ritz and reviewed a bunch of the latest albums like Roar, Fatal Portrait, Pleasure to Kill and Master of Puppets (I gave it a 3). Only demo I reviewed was Nuclear Assault's 2nd demo. I got it from Danny riding back from L'amour on the subway. I'm not sure but we went thru probably 300 copies, maybe more. I would go with my dad to his office and run off copies for hours. We sold them at shows and to all the underground record stores in NYC again and again. Then I started getting more involved with writing bands and other fanzines so I started trading copies, usually for European tour shirts or something cool.
Damn that is so great memories. What was that show like at the Ritz you mentioned in your last answer?
It is still to this day one of my all-time favorite shows. April 5th 1986 at The Ritz in NYC. Voivod, Cro-Mags and Venom. It was Voivod's first U.S. show and it was a few months before Roar finally came out. They were absolutely incredible. The Cro-Mags were one of the best NYC Hardcore bands and would whip the crowd and especially the skinheads into a violent frenzy. Venom were still in their prime (barely) and played classic after classic and just blew me away. That night me and King Fowley met in person for the first time. Both being tape traders we knew each other and that night crossed paths on the stairs between bands and got to meet.
Yeah I read a lot about that show still to this day. Now NY had lots of great clubs as did NJ. Before I go to NY, did you get to go to NJ for many shows, not including G Wilkers? Like to you ever go to Escapades or City Gardens, The Stone Pony, The Show Place, etc?
I went to a lot of Jersey clubs in the late 80's and early 90's. Anywhere bands like Revenant and Ripping Corpse played including all the ones you mentioned and Studio One, . City Gardens I went to a lot and saw some amazing shows there. I loved the high stage and the crowds were sick!
Yes, they were. City Gardens was amazing as were all those NJ shows back in the day. Now I am gonna move onto G. Wilkers, which was in South Jersey. What are some memories you have of that club?
Even tho G Wilikers was about a 2 1/2 hour drive for me I still managed to go there a lot. Frantic Annie Bowman was the best promoter cause she brought in so many killer underground bands to play from all over. Some highlights included Hellwitch, Exmortis, False Prophet, Nuclear Death, Fatal and so many more I can't think of right now. I would go there anytime any of my friends played like Deceased, Prime Evil, Suffocation, Revenant, Ripping Corpse, Immolation, Goreaphobia, Mortician, Incantation, Nokturnel and others. So that meant I was there every few weeks for something. Besides being a killer club, Annie also threw after show parties at her house with the bands, friends and various people that were at the show. Those were real fun and to be honest all my memories are hazy and spotty. We drank and smoked a LOT!!! One of the greatest clubs ever which helped build our true underground family in so many ways.
Can't agree with you more. Those were the days. Now with the release of your 1st issue, did with your 2nd issue begin to start getting demos to review and start more letter writing and stuff? Did labels also start to send you promos?
Most definitely. By this time, I was already corresponding with other zine editors and more bands. Started building friendships with bands like Dark Angel and Razor and the demos were starting to come in, plus I was already heavily into tape trading. Wasn't getting any free shit from the labels yet. That started with second issue.
So what were some changes, if any, that you did with issue # 2 that you did in issue # 1? Do you think it was a big improvement? What bands did you interview for issue # 2? Did you bump the circulation up at all? What were some places that carried your zine?
Same size and format but now I had more of a vision in putting it together. There's some ads and flyers and I had mastered the 'cut and paste' techniques. Mark did a few interviews and reviews and I got stuff from a few of my trading buddies too. I did all the typing and layout. Interviews with Dark Angel, Kreator, Razor, Darkness, Slayer, Death and Cryptic Slaughter. I was driving now so besides NYC, I sold to a handful of records stores in Queens and Long Island including Slipped Disc. I was now trading with other zines and bands and getting it circulated all over.
Those were as Styx puts it, "The Best of Times". How much mail were you getting per day and how much mail and zines and tapes were you sending out? What was the zine circulation and did you copy issue # 2 at the same place he he as issue # 1?
They certainly were! I was getting more mail now as my correspondence kept increasing with other zines and bands. I wasn't getting a crazy amount of zine mail yet, a couple letters a day, tape or album every week or two. Tape trading was a 24/7 passion so I was dubbing and listening to new tapes every minute I was in my room. And I would get tapes a few times a week from different traders. I probably went thru about 400-500 copies of issue #2 and yes they were mostly xeroxed at my dad's office once again. But I also went to a local print shop and got some copied as well.
Now when you say released issue #3, how long was in between issues? Now by this point we're you making ads to have other bands and zines to spread in their mail? Around how much in mail were you spending a week?
I averaged an issue a year. Speedy Gonzalez I am not. By this time, I was fully immersed in the growing underground so my daily mail was massive. The mailman would just deliver our mail across the street to the hardware store i worked in cause there was always too many packages and magazines that wouldn't fit in the mailbox. My life revolved around going through the mail and all the goodies. Reading the zines, listening to the tapes or records and writing letter after letter after letter after letter…
Now during this time what were some of your favorite bands and labels
My two favorite bands were Dark Angel and Voivod. Plus Kreator, Razor, Hallows Eve, Holy Moses, Darkness, Assassin, Sacrifice, Testament etc. I was getting lots of killer new demos like Necrodeath, Battalion, Hobbs Angel of Death, Wreckage, Caligula, Excel and Armoros, I still wasn't getting too much from record labels. Combat and Roadrunner were the first two that sent me promos. I mainly reviewed new albums that I bought and lots of demos or independent releases I got from bands or tape trading.
So how much time would you say in any given week was spent doing zine work, like answering mail, doing reviews/interviews, etc?
That would've taken up most of my time. Besides working and hanging out with my friends every minute was spent listening to new music and doing mail while dubbing audio and video tapes for trades. I would always listen to new tapes in my car too and write notes while driving.
So now with issue #2 who was doing the zine besides you? Looking back, how honest were your reviews?
By issue #2 I had assumed control and was the only person working on the zine. Mark did a couple interviews and reviews and I started getting input from other tape traders but I did all work on it. I feel my reviews were honest for how I felt at that time. There's a few looking back that I'd change my opinion of years later but overall they were honest. Mostly positive or at least listenable cause I wasn't gonna waste a lot of space trashing things.
So now who did you interview for issue #2? Did the circulation bump up a bit as did mail? What would you say your favorite albums were at this time?
Issue #2 had interviews with Dark Angel, Kreator, Razor, Darkness, Death, Slayer and Cryptic Slaughter. Circulation increased some. Still selling them at shows and to the NYC record stores but now thru the mail too and trading with other zine editors. Favorite albums would be anything from Dark Angel, Voivod, Razor, Kreator, Destruction, Possessed, Celtic Frost etc. I was now listening to a lot of demos like Darkness, Artillery, Necrodeath, Excel, Legacy and so many more.
Obviously you went to L'Amour's much back then, so what were favorite shows back then from this legendary club?
Oh yeah! My first show was in the summer of 1984 with Overkill, Nuclear Assault, Carnivore and Blood Feast (who were still called Blood Lust). I saw a lot of really great shows with so many killer bands. Some standouts include that Overkill show, Slayer in late '84, Exodus in'85 when Paul was "too sick" to sing, so the crowd sung the whole set. King Diamond with Megadeth opening in '85 both for their first albums, Possessed in '86 with a special appearance by Slayer, Celtic Frost, Voivod and Kreator were all a few of the greatest.
I was at some of those shows too. Now did you go out of town so to speak, like did you go to Canada for the WWII show or out to any Milwaukee Metalfests back then?
I really wanted to go to WWIII in Canada but my parents wouldn't let me go. I missed the first Milwaukee Metal Fest but I went to the next 4. Went to the Michigan Death Fests, and of course Day of Death in Buffalo. I used to rent a 15 passenger van, pile in lots of friends and head out. Those were always amazing times. Besides the fests I used to travel to Buffalo, Pittsburgh, Boston/Rhode Island or anywhere in between on a regular basis for shows. Whether it was a tour like Dark Angel or Voivod or a show with any of the bands I was good friends with.
Those must have been the best of times. So when did you begin to work on issue 3? and many demos/promos were you getting at this time?
I used to live for road trips. I would do most of the driving myself cause half my friends didn't have a license. A pack of cigarettes, Jolt Cola and Vivrin were all I needed to hit the road for hours on end.
I began work on #3 during the summer of 1987. It came out by the end of the year. I was just starting to get some promos from Roadrunner and Combat but not much yet. I didn't really pursue the labels too hard until #3 came out. I was definitely starting to get more demos from bands now, but the majority of my reviews were still albums I bought and demos I got thru tape trading. In fact, I reviewed Prime Evil's first demo in issue 3, not knowing them, I just really liked the demo. Mary the bass player bought my fanzine, saw the review and wrote me. Which began a very long and close friendship I have had with the entire band to this day.
Now what are your thoughts on your first 2 issues these days?
I am very proud of them. Even though I was really young I feel my interviews were informative and the reviews were honest. I always tapped into the best underground metal and the hottest new bands and tried to have content that stood out.
So now with issue 3, who was interviewed? Do you know around how many copies you did?
Issue #3 was still the same size (7 x 8 1/2) but this issue had more pages. For this one I went to a local printer and paid for about 500 copies. And still made some at my dad's office. I had interviews with Voivod, Deathrow, Necrodeath, Napalm Death, Aggression, Papsmear, Thanatos, Exile and of course Dark Angel, who if you hadn't noticed got interviewed in depth in every issue.
Ha Ha. Now did you have much problem getting rid of the copies that you did print up at this time? Were you up to using a word processor at this time or was it a typewriter?
It took some time to unload all the issues but they went. I was trading with more people and started having more friends bring copies to their local record store. It was all still typed on my old typewriter.
Ah those were the days. So when did you being work on issue # 4?
I started work on issue #4 in mid/late 1988, and it came out in early 1989.
So who was featured in this issue? Was it also done like a paste and glue thing? If I recall some of your issues were pretty thick too?
Issue #3 was 88 pages, still half size, and #4 was 74 pages. Biggest change with #4 was now it was full size so I could pack in a lot more material.
#4 had interviews with Dark Angel (of course), Voivod, Prime Evil, Sepultura, Armoros, Num Skull, Gargoyle and P.M.S. I wrote up a lot more full page articles on specific bands and had a LOT more show, album and demo reviews. Still all typed on my typewriter and cut and paste format. This time tho I got all the pictures scanned first so they came out clearer and then got the zines printed up. This time I got 1000 copies professionally printed. I didn't do anymore at my dad's office.
Nice. I remember issue # 4 was huge. Now with you going to a 1000 copies was it hard getting rid of the double the amount of last issue or did slowly but surely they all sell?
It took maybe 6-8 months to unload them all. I now had a lot of stores, distros, bands and friends selling copies locally around the world, and I was now getting regular orders in the mail. So they all went pretty quickly.
So now was issue # 4 your last issue before you started working at Roadracer (roadrunner) records?
Yeah it was the last issue I put out. I started compiling material for issue #5 in the spring of '89 and just kept doing interviews and writing reviews throughout the year. It was becoming an absolutely monster of an issue, but by the time it was getting put together a lot of the material was getting dated and I didn't have the time to update everything. And then once I started interning at Roadrunner, it was over. So I never released it and just concentrated my attention on my new job.
So now as far as your zine goes, do you have a copy of each of the four issues and are any extras for sale?
Unfortunately, no. They have all been sold out for decades. I only have one or two copies of each issue left for myself.
So how did you get the job over there? How long were you there for? Did you recommend any bands for them to sign? What was it like working over there? What was a typical day like for you at this time?
I started interning at Roadrunner the very beginning of 1990. I had known Monte and Sophie for a while because of the zine so when there was an opening they asked me. Monte had even come to me to help a couple of his bands before I worked there. I had Sepultura sleep at two of my friend's houses for two weeks while we all hung out before their tour. And then I brought Malevolent Creation up to the office to sign their contacts. I was there for about 2 1/2 years. Interned about 4 months working with fanzines and newspapers. Then I was hired in the press department working with bigger magazines as well. After about a year, there was a shift in personnel and I was switched to the retail dept. talking to record stores across the country. My early days revolved around calling press contacts and setting up interviews and reviews in hundreds of publications. Then when I did retail it was all about getting better product placement and displays put up. I also wrote most of the bios during that time. I absolutely loved working there!!! I was there from the beginning of 1990 to the fall of '92, so all during their glorious Death Metal days. I genuinely loved most of the bands I worked with, and was friends with half of them already. I was always recommending bands to Monte especially Deceased and Prime Evil, but he passed. I'd say I did have something to do with getting Suffocation and Sorrow (Apparition) signed. I definitely helped get them on his radar.
What are some of the things you found out about working at a label? Some people say Roadracer was a trendy label and they signed death metal bands and when that scene started to die out, they dropped all the bands. Care to comnent. Favorite band at the label was?
I learned a lot working there. Got an inside look at the industry now that I was really involved in the scene. I got to work closely with bands thru every step of recording an album and since I worked in both press and retail I knew how to properly promote and market my Rage Records releases. I learned how to write bios and press releases, even started doing newsletters. So I was still getting an outlet to write as I had started with the fanzine.
You are 100% right that Roadrunner was always looking capitalize on the hottest trends in Metal. They became the leader of Death Metal bands during this time, but as soon as the trend fizzled out more than half the bands were let go, along with yours truly. While I was still there they started branching out with different genres hoping to get the next big thing. Grunge, Industrial, POP-Metal, and other genres they started experimenting with. None of the bands really did anything and I didn't even like any of it, so I got phased out along with all the Death Metal bands I was friends with and loved.
Favorite band is hard. I guess I'd have to say Malevolent Creation. Their first two albums are still among my all-time favorites and I became very good friends with them. I am the first person thanked on The Ten Commandments and I spoke to Phil or Bret every day while they were recording Retribution so I could update Monte.
So after you were let go was there any thought of starting your zine up or had the interest in that gone away as obviously the Internet was around and My Space was a big outlet for bands at that time or had that site not been around just yet?
I don't remember if the internet was up yet but I wasn't on it for years. I always thought about starting up the zine again, but my hands were already full doing Rage Records, which was started while I was still at Roadrunner. So when I was let go I concentrated all my time and efforts into that.
I was about to get into that. What made you decide to start your own label? I know it was you and Joe Pupo. Did you ask anyone else to be part of it? What was the plan for it going in?
Me and Joe had become very good friends, and we both worked at record companies. Me at a Roadrunner and he at Atlantic, so we knew the basics of running a record company and since we both had fanzines, a mail order distro and record label seemed like the next step.
This was 1990 so these types of underground record companies and distros were just starting to spring up worldwide. We had a couple bands we wanted to do 7" eps for that we were good friends with and me and Joe were frustrated no one else signed them. We knew all the new record labels thru our fanzines so we set up the mail order distro.
How did you come up with the name Rage Records?
We wanted to utilize one of our fanzine names and I think there was an Armageddon Records so we went with Rage Records, for Joe's fanzine Rage of Violence. Plus, it's a shorter name.
So was the idea early on to start off small and then maybe put out a full length release one day? Did you have a band in mind or bands in mind when you started up the label?
Exactly, we wanted to put out a few 7" releases before doing a full length. We knew when we started the label that Exmortis and Prime Evil would be the first two releases. Both bands had unreleased material recorded so we were able to use those songs.
How were the responses overall each release? How many copies did you do of each release? Where did you get them pressed and around how much money did that set you back?
The responses were great! We got a lot of good press and since I knew the best record stores in the country I would sell direct to some of them. We pressed 1000 copies of each 7", all on different colored vinyl. We used a place in Nashville. There weren't many places pressing 7" vinyls. We had the covers printed professionally and we xeroxed the inserts, and bought the sleeves, and we would just put it all together. I forgot what it cost but it wasn't too bad.
Did you ever do a re-press of either release? I assume you have an original copy of each release? Has either release ever been re-issued or even bootlegged? If someone wanted to re-press it would you let them?
I most certainly have at least 1 copy of every releases I put out. They are prized possessions. I only did one pressing of each release. No one else ever bootlegged or re-issued them but a few of the bands that used the tracks on compilation cds they put out. If someone wanted to repress them that's fine with me as long as they come to me and band first.
So after those first 2 releases who was up next? Did you start to get bands contacting you to put stuff out now?
The 3rd release was Burial from Florida. They were a new band that contacted us and we both loved. We were definitely getting a lot of submissions and ended up selling demos from most of those bands thru the distro. Burial really stood out so we did their 7" next. And it was received just as strongly as the first two.
A lot of people were doing distribution at this time including me. How did that go for you and did you ever get ripped off at all during or the label's existence?
The distro grew very quickly. We were trading regularly with all the underground labels across the US and all over the world so we had a good catalog that kept growing.
Yeah we definitely got ripped off a couple times. There was a few guys that ripped us all off like Wild Rags. I had been selling Richard's zines for years but once he started getting stuff from us he ripped us off like so many others. We tore into him in one of our newsletters, which began a brief back and forth of insults and accusations.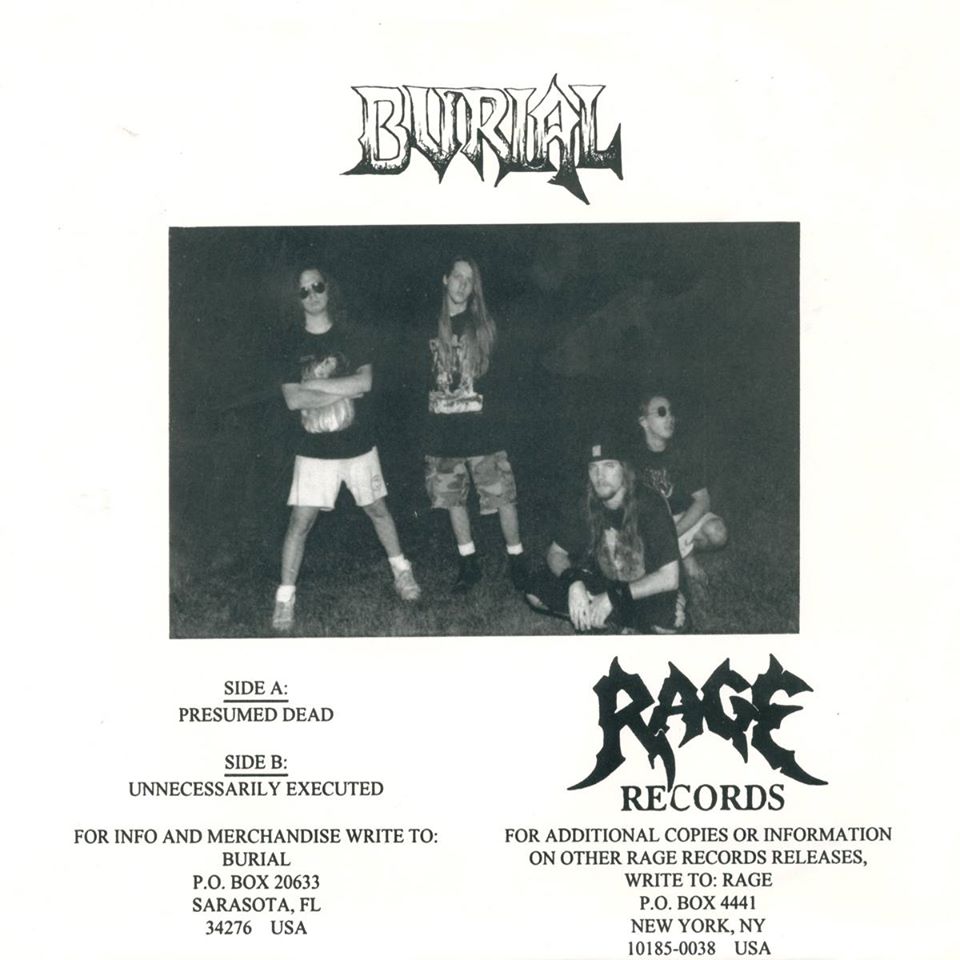 So as the label grew at this point were you or did you think about upping the run to say 2000 or 3000 copies of your releases?
We definitely thought about it but since money was tight we decided to just press 1000 copies. We thought about doing second pressings for a couple of them, but we just concentrated on the next release.
So what were the next set of releases, say the next 3. Any bands that you turned down at the time that you look back and say I wish we would have worked with them?
The fourth release was Revenant from NJ. Another band we were very good friends with and absolutely loved. Offhand I don't remember any particular bands we turned down. At this time we started planning our first CD. It was gonna be a split with Morpheus (Descends), and a second band. Due to various circumstances we never did the CD. Then Joe was ready to move to TX, so he quit the label. I carried on and began my planning my next 7".
Now when he left did you have thoughts about taking on a partner to help with the label?
Not at all. We worked well together but I was looking forward to continuing on my own. I changed the contact address to my home and just did everything in my room.
So what was the first release that you did on your own? Were you working a regular job in addition to doing the label? About how many hours in a given week were spent doing label related stuff?
My next release was Infernal Hierarchy from NC. Better known as False Prophet, but at that time they had to change their name. I loved the band since I heard their first demo in 1989 so I signed them right away. I was working at a hardware store across the street from my home full time, and unless I was with my girlfriend or hanging out with friends I would spend all of my time working on the label. I was getting orders every day and lots of correspondence.
Was this another 7″ release?
Yes, all my releases were 7" eps.
Were you ever thinking of putting a Prime Evil CD out?
That was in the works for a while and changed hands. A mutual friend approached them about doing it so various band members, especially Mary remixed the material and put together the cover and booklet layout. Unfortunately, he couldn't put it out, so King Fowley stepped up and released it under Battlezone Records.
So what was the response and how were the sales for the False Prophet 7″?
Just like the other 7"s, it was very well received. Great reviews, lots of positive reactions and sold quickly.
Now how many more releases did you do after this release?
I did 3 more releases after Infernal Hierarchy, for a total of eight 7" in total. My next one was Epidemic, which was a cooperative release with Metal Blade Records!
Oh how did that come about and were those songs exclusive to that release?
Metal Blade was getting ready to put out a new Epidemic album and wanted to press a 7" as a teaser and to get more exposure in the underground. Marco Barbieri was working there and since we had already been friends for years he came to me with the idea. Metal Blade paid for the pressing, 1000 copies, and I handled all the distribution. It worked out great for all of us. I'm pretty sure both songs were on the album.
So what are your last 2 releases?
My next release was a split 7" with Num Skull and Sea of Tranquility. Besides loving both bands, Tom from Num Skull and Pete from SOT are two of my oldest underground friends, and since they are also very close, doing a split was a no brainer. My eighth and final release was the Nokturnel 7". A killer band from NJ that I had become good friends with and saw live numerous times.
Yes, I remember those bands quite well. Now when you decided to release the Nokturnel 7″ did you know that was going to be your final release or did that decision come later on?
Not really. In fact, my next release, was once again, going to be a split cd, that never came out, with Malediction from England and Incarnis from VA. I was now getting serious with my girlfriend, to be wife and working more, so I had less and less time to work on the label. Sales had been dropping too as I was trading less and being surpassed by all the newer distros. I didn't have the money to put out the cd and over the next year the distro dried up completely so I put Rage Records to rest.
So what did you do over the next 2 years say. Did you get rid of all your copies of the stuff you put out?
I wasn't going to as many shows anymore and then I got married in '96. So life was definitely different for a while.
My first five releases pretty much sold out within 9 months of release. I still had some copies of the last three, and I still have a small amount of Epidemic and Nokturnel left. I sold off most of the distro items, although I did have a bunch of cds and a lot of zines that didn't sell.
If anyone would want the Epidemic or Nokturnel are they for sale?
Absolutely. (his email is at the end of this interview-CF)
So now were you offered any jobs in the music industry at all during this whole time?
Nope. And to be honest I was kinda out of it for a couple years. Most of the thrash bands I loved had broken up or changed to fit the times and aside from some Death Metal bands, I wasn't really listening to anything new and I was completely out of the industry.
So now what got you into booking underground metal shows?
During the summer of 2010 a few friends i knew through hanging out at Three of Cups in NYC were starting up an independent concert promotion company with a small retail store called Wendigo Productions in the Lower East Side. They asked me if I would be interested in booking shows for them and working in the store. I jumped at the opportunity.
I had booked a handful of shows back in '89-91, but this was really a new experience for me. I started building relations with a few local venues and reaching out to bands I was friends with, and just started booking shows. I was always given free reign to book any shows I wanted so of course I went straight for the old school Underground. I booked a steady flow of Metal shows and NYC Rock shows with all the best new bands.
Who were the first few bands you booked and how was the attendance for these shows?
I got off to a great start. My first show was September 11, 2010 with Deceased, which was appropriate since the last show I booked in '91 was Deceased with Repulsion and Broken Hope opening. My second show was Tyrant's first NYC show with October 31. Both shows were packed at two different venues.
My third show was at Highline Ballroom, one of the better midsize venues in the city. After hanging out and working at Three of Cups so long I got to know all the best up and coming, as well as the established NYC Rock and Roll bands so this was my first local rock show. Killcode headlined, who were just starting to take over the NYC scene being one of the hardest working bands, with a killer live show. With them and a strong opening bill we sold out Highline Ballroom. That show started a long and successful run of shows we did together throughout my time with Wendigo.
What was it like seeing Repulsion play live as they were one of the first bands way back when playing death metal with blast beats? Is this where the Deceased and Broken Hope feud started?
Repulsion were unbelievable live back then, still are today. They were so brutal and devastating!!! Unfortunately, I couldn't make it to Chicago for my show but I saw Repulsion at Day of Death in Buffalo and Michigan Death Fest. King and Jeremy first met at my show, but their fight happened a couple years later.
Got ya. So what were some other shows you have put on over the years?
Back in 1990 I set up two shows on Long Island with a newly formed Suffocation and Malevolent Creation when they came up to sign their contract with Roadrunner, but not too many other shows back then. Since Wendigo was a full time job I treated it like a real promotion company and soon started booking as many shows as I could. I reached out to all my old Metal band friends and started bringing a lot of old school bands here. Once I got established I was booking 30-40 shows a year. 75% were Underground Metal and I would do a good Rock show every month or two at Mercury Lounge or one of the bigger venues like Bowery Ballroom, Gramercy or Irving Plaza. I even did a couple Rockabilly shows, and some Hardcore nights. But obviously Metal was my passion and main focus, and because my shows helped put Wendigo on the map and I was the main concert booker, I could book as many shows as I wanted. There were some weekends I had three shows booked. I soon had a roster of bands I would regularly bring to NYC like Deceased, October 31, Blood Feast, Morbid Saint, Mortician, Master, Malevolent Creation, Impaler, Raven, Deathrash, Fantom Warrior, and BAT. I was booking a lot of touring bands as they came through, but I also brought a lot of bands here for exclusive shows. Bands I liked and wanted to see and knew they would bring people out. Some of my personal favorites and really special bands I was honored to book include: Razor, Artillery, Hobbs Angel of Death, Iron Angel, Girlschool, Jag Panzer, Diamond Head, Grim Reaper, OZ, Eliminate (with Don Doty doing old Dark Angel), Wehrmacht, Philm (with Dave Lombardo), At War, Soothsayer, Exhumer, Dr. Shrinker, Thrust, Tyrant, and Vader. I am proud to say I put on a lot of really good Metal shows the past 10 years and got to work with bands I grew up listening to or had been friends with for decades.
Now out of all the shows, di you lose any money on them or did you have a small turnout, which surprised you over the years?
Oh hell yeah to both questions, many times. As an independent promoter I have to compete with all the big boys like Live Nation and AEG, as well as all the venues themselves that book their own shows. I don't have the bar tab to fall back on so if the turnout is not what I expected, I still have to pay everyone so quite often I have to pull out my own money. Most shows are successful or at least break even, but I have certainly lost a lot of money over the years too. There is a lot of competition with multiple shows booked on the same night, splitting the Metal crowds. All us independent promoters are friends and try not to double book nights, but the venues are always doing that to accommodate tours. These days it's getting harder and harder with Underground crowds getting smaller cause more people would rather watch the videos on You Tube. Whether I'm booking a touring band or putting together my own bill I can never be 100% sure how it will go. Obviously some shows are guaranteed sellouts but usually it's up in the air. I've been pleasantly surprised with some shows surpassing expectations and I've been burned with poor crowds.
Now you have an incredible weekend coming up in September of 2020 (now 2021 cause of the coronavirus-CF) How did you manage to pick the band's for this 3 day line-up?
This September 11,12 & 13th is the Rage of Armageddon 6 festival in Brooklyn. Three days of the best old school Metal. These fests have always been a personal indulgence of mine since I hand pick every band because I like them and want to see them live. I always bring in exclusive bands, many playing NYC or the US for the first time. And of course I have my favorite regular bands that I'm close friends with.
This fest will commemorate 10 years of booking shows regularly so I really went all out! I am very excited for thIs lineup. A couple personal highlights include bringing Darkness over from Germany for their first US show ever! Getting Caligula and Insaniac to do their first reunion shows, and having a one-time only performance of Abattoir and Blood Lust classics by original members. It's gonna be one hell of a fest!
How long do you see yourself promoting shows for?
I'm not sure. I have no plans to 'retire' or completely stop, but I also wanna limit myself to booking just a couple a year. I still enjoy doing them so when something special comes my way I'm gonna jump on it.
How do you find the overseas bands like Darkness for instance?
Most overseas Underground Metal bands are very easy to get a hold of these days thanks to Facebook. And they are usually very friendly, receptive and easy to work with. I just reach out to an individual member or the band page, or many bands have contacted me first. Darkness hit me up the night of my Iron Angel show, which was set up because I slipped in a special NYC show on their way to South America. An opportunity I had to jump on! I did the same thing with Artillery for their first trip over here to play MDF. I asked the band if they'd be interested in playing NYC after MDF, cleared it with the MDF promoters and got to spend the weekend with them going back and forth to MD.
That's great to hear. Now tell everyone about some other bands on this3 days fest?
It's the sixth Rage of Armageddon fest. September 11th marks my 10 year anniversary of booking shows so I went all out for this fest. Three nights now spread over two weekends. The main headliners are Cenotaph from Mexico playing their first NYC show, Germany's Darkness doing their first US show ever and the return of Nunslaughter. I think their last time here was my show 9 years ago. Some other highlights of the fest include AbaLust, which is a one-time only special set of Abattoir and Blood Lust classics performed by founding members. Impaler doing the Rise of the Mutants EP for its 35th anniversary. First time reunions of Caligula and Insaniac. My brothers Blood Feast who have played every fest. Heretic, Resistance, Ares Kingdom, Deathrash, BAT, Wrath, Wretch, Anthropic, Sacrificial Blood, Magus Beast, Teloch Vovin, Eat Lead and Dimentianon. Taking place at Market Hotel in Brooklyn. Lots of merch with a few vendors and all the bands merch. It's gonna be one hell of a festival, my biggest and best yet!!!
I'm gonna try and attend this one. So when you look back at all your years of being involved in the underground, what are some of your favorite memories?
I've had a lot great memories thanks to the underground. I'll always treasure those early days of discovery, buying the early albums and getting new demos and then seeing the bands live and ultimately writing bands for the first time.
My all-time favorite times include my road trips. Whether it was in a packed 15 passenger van going to the Milwaukee or Michigan fests or hitting the road in my car with a few friends anywhere from DC to Pittsburgh to Buffalo to Boston/RI. I always loved getting to meet so many friends from around the country and seeing countless incredible bands. Hands down two of the best times in my life were the two Metal cruises I went on. Absolutely amazing in every way and I can't wait to go on another one. My time is Europe with Deceased was incredible, finally seeing parts of Europe and experiencing their Underground firsthand and going to two European Metal fests. And some of my shows like Razor, Artillery, Hobbs Angel of Death, Iron Angel, Jag Panzer, Morbid Saint, Grim Reaper, Girlschool, and Don Doty's Eliminate have been such personal honors and thrills as a fan that they are treasured memories.
Top 10 releases any metal fan should own.
Off the top of my head, 10 absolutely essential Heavy Metal classics are:
Black Sabbath-Black Sabbath
Judas Priest-Stained Class
AC/DC-Highway to Hell
Overkill-Overkill
Iron Maiden-Number of the Beast
Accept-Restless and Wild
Venom-Black Metal
Slayer-Hell Awaits
Celtic Frost-Morbid Tales
Voivod-War and Pain
I never got to visit Slipped Disc Records when it was around. Was it as great as they say it was?
Oh yeah! Mike the owner was really cool and would always get obscure imports and all kinds of Metal!! He would take our recommendations about new releases and was always supportive by selling my releases and lots of stuff from my distro. I would go there weekly and always find lots of cool new shit to buy!
Do you still have most of your old fanzines and what would you consider the best fanzine ever and why is it the best?
I most certainly do have all my old zines, and I have a LOT of them! Well over 1000 ranging from the early 80's to mid 90's and even some more recent print zines. Besides all the zines I received thru my fanzine and label, I also got to keep all the fanzines I worked with at Roadrunner. I photocopied whatever was pertinent to the label and because of my love for fanzines I got to keep them all.
It's really hard to pick one fanzine as my favorite. From my early days Slayer always stood out and inspired me in its format and writing. There were a lot of really excellent zines that came during my time but If I had to pick one of my peers, I always loved Metal Meltdown and Kluke's (Metal Meltdown-CF) writing stood out.
Where do you see the scene headed into 2020 and beyond?
Damned if I know. I'm gonna keep listening to and booking the music I enjoy. Hopefully we won't go thru another grunge phase. As long as there are bands writing killer new material and doing shows there will always be fans of Underground Metal, and I'll be right there too.
Any last words to wrap this up and do you have any social media sites at all people can follow?
Wow, thank you Chris for unquestionably the most in depth and enjoyable interview I've ever done!! You've been a great friend and peer for over 30 years and I am so proud to see you still doing Metal Core and adapting it for the changing times. Thank you to all the people that have supported my endeavors over the years. I am very proud of everything I have done, and I treasure all the life long friends and contacts I've made thru the underground scene. I have had an amazing ride in the Metal world the last 40 years and I can't wait to see what's next. Thanks for reading this interview and forever keep supporting the Underground Metal Scene!!!
I have a Facebook page for Armageddon Productions and of course my personal FB page. I briefly tried Twitter and Instagram, but I just couldn't figure them out or get anything out of them so I gave up. I personally can't stand all this social media so FB is good enough for me to keep in touch with friends and contacts and to promote my shows. Feel free to contact me through either page. I'm always interested in hearing new music.
Facebook: www.facebook.com/Armageddonproductionsnyc/
Email: [email protected]