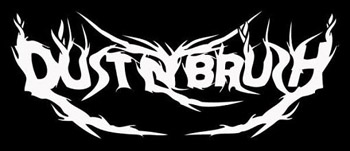 Hi! What`s up! 🙂 How about your mood after the Gotta Go Festival? 🙂 Could you tell about this event?
Hello, I'm really excited about Gotta Go! That was great festival, great organization and great crew of course.
First of all we would like to get know your history. How did the band form and why the name Dust N Brush?
The band was created in 2009 by Maciek (guitar) and Grzegorz (drums). Initially they were just playing in a garage, then I joined them and that were 3 of us and then we were in three. Jacek (vocals) joined the band soon and we started playing together. After a few weeks, we had 3 tracks and we were looking for second guitarist. Maciek join as soon and the band was complete. Few months later and few played gigs, Grzegorz had to leave the band. We hadn't drummer. Maciek also playing drums, so he start playing drums in DNB. We met Kmieto (guitar) soon and band was complete. Why Dust N Brush? I don't know, but I love it 😛 hahaha
"Filth Of Our Blood" – your debut stuff got a great reviews and in effect, you signed a contract with a Ultimhate Records. How do you evaluate this album in retrospect? Do you see some disadvantages?
We are so excited about the contract. I think the album could be longer. But next it will be. I'll promise!
What're your personal favourite tracks from the album?
I like all of them! haha, but my favourite are: "The beginning" and "Across the world" Why? I love playing them on bass. These two songs gives me a shot of energy on stage.
Could you tell about the process of composing this stuff? How did you create this songs and did you expect this great answer from fans, label etc.?
Mainly all songs was composed by Maciek (guitar), lyrics written by Jacek. Usually Maciek shows us new song, then we change some parts like we want and song is already done. We weren't sure what people think about our music, but now we are sure that Dust N Brush can be liked.
6. Your genre is a melodic death metal/deathcore. People often compare you with a The Black Dahlia Murder and it seems that you are proud from this comparison, right? Is it your the biggest inspiration? And why?
I think… yes it is. We love TBDM and we are inspired by them, but we are listening to many many more stuff. Are we "Polish Black Dahlia Murder"? I don't think so.
A few weeks ago you recorded your first video. Could you tell something about the works with that and the concept?
We are so glad about the video. That was new experience for us, and we felt good doing it. The crew was professional and done well their job. There were 3 footage days, two with band and one with actors. I think our fans like the video. The concept has been written by Michał Pałuszny director of the video. He present us the concept and we decided what we accept and like.
What do you think, if you would be born in USA for example, would you have the easier way to develop your band? Do you agree with me that the good bands from the east Europe must have a incredible determination to make their bands more significant?
Hmm however I think it's easier in west Europe or USA, but first you have to do the same – make good music. Metalcore, deathcore and others are still underground kind of music in east Europe. in the west that music is more popular – more music – more fans – more gigs etc. There are much more great bands. However we live in Poland and we are proud of being metal band here.
If you could change anything in the polish hardcore/metal scene, what would it be?
People start going on gigs and listen to metal ! And everything went good.
Your all time favorite death metal album?
Death – Symbolic
What are your goals from now on? Have you any new composed tracks?
Biggest goal is to promote the "Filth of our blood" and the band. In the early 2012 we'll go on Europe tour so stay tuned on our facebook profile (don't forget to like it! haha). We want to release some T-shirts and maybe something more. We have got some new stuff, about 6-7 tracks, still composing, but its too early to talk about it.
Thanx a lot for your time! It`s a time for your last words!
Thanks a lot ! Thanks for fans and people who support us, its pleasure play for You! See You somewhere on tour! Stay tuned on our Facebook profile for news!