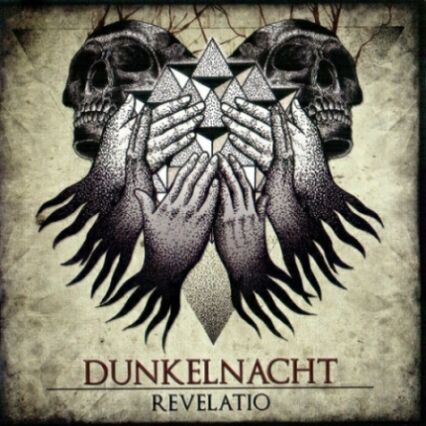 WormholeDeath Records- 2014 -France
The Frenchmen DUNKELNACHT are already since 2007 musically on the road. In January 2014 they released their latest opus "Revelation" via WormholeDeath Records.
To describe the music of DUNKELNACHT is not that easy a bit. Extreme Metal with many Black Metal influences is perhaps the best enphemism. But, here is nothing how it seems! If you believe to hear flawless Black Metal the gents change sides already the next second to melodic Metal passages which sound experimental and somehow chaotic. The listener is conflicted between the single Metal genres. By the high speed while changing you have to take care not to pass the connection. Here is processed musically rather everything. Everything is represented here from Power Metal speckles through to Black Metal passages. The obvious musical chaos turns out to be however on close listening as sophisticated arrangements which are very experimental. Nevertheless the all in all eleven songs never loose its dark character. Also with the speed of the single songs is experimented a lot. From slow, little short of halting passages through to fast insertions you can hear here everything. Melodic solis and the change from growls to clean vocals fit in outstanding into the overall structure and round off it positively. Very dedicated and ambitious recorded I can only recommend "Revelation" to each fan of experimental, dark Metal!!!!
8,4/10