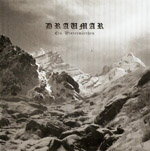 Karge Welten Kunstverlag – 2010 – Germany
Some days ago I listened to a cd which was already released in the end of 2010. Nevertheless I think it's worth to be reviewed also in the year 2012. There is talk of the German 1-man project DRAUMAR which put with the assistance of Karge Welten Kunstverlag "Ein Wintermärchen" on the Metal market.
You can hear here Ambient Back Metal at its best. The opus starts with calm, spheric synthesizer sounds which initially get along utterly without any vocals, guitars and drums. This continues consequently with the following songs. Icy dream worlds of never ending beauty and width originates. Epic, dense sound walls which are relaxed by wind ensembles and string performances now and then. By the use of sparsely seeded, screaming vocals which seem to unite the sorrow of the whole world in itself the darkness and hopelessness is outstanding worked out. Thereby the all in all seven songs never get verbose. DRAUMAR has created with "Ein Wintermärchen" a very unusual cd which sets beneficial apart from the other black mishmash. Highly recommended!!!