Dot the Eye is a new power coming from Serbia. What we have here is a perfect combination of modern style and some southern metal influences. You can say that Dot the Eye is almost Pantera like band, but yet with some different influences. So far they have recorded their debut issue "Power Inside" and it will be soon released thoung Minder Records.
Dot the Eye is a complete new band to us. You are from Serbia if I am correctly informed…how is it in Serbia?
Actually, wet and cold like in the rest of Europe. (Laughter) Only thing that keeps us worm is new Metallica LP (please don't tell Lars, I downloaded it for free), listening to it right now, may say that brings back memories of good old Metallica. Hope to see them play in May, where in Belgrade. Thank you for having us; it is a great privilege to be where.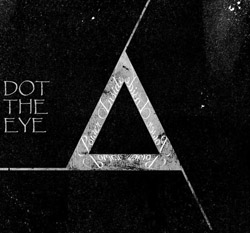 Can you unveil us something about metals scene in our country?
Few years ago, it was much better. Many rock and metal clubs closed till then, many good bands disbanded. Now, there are a few places where young bands can show what they're made of. Also, many bands turn there back to metal music and started playing popular, "alternative" music, as they call it. To make matters worse, we have this phenomenon in Serbia called turbo folk music, which takes, almost, 70 percent of the audience. On the other hand, we have Exit festival, Guitar festival and Beer fest, trying to make a difference. Belgrade has two and a half million people, but you can not see more than two hundred metal heads on any gig. Concerning that fact, every metal band is an underground one. You can see it's pretty hard to preserve like a band in this region, so, we as a band, pay respect to all the others struggling but staying true to the roots of metal music. In near future, some things may change. Few clubs opened their doors to heavily distorted sound, new and good bands emerged and it's on the time to tell the truth.
What kind of music do you play? Is modern metal popular in Serbia? Are there any traditional bands out there?
Well, we all come from a musical background of classical to jazz music. In spite of our background, metal music is our foundation, so we tried to maintain the essence and balls of old school metal but adding our knowledge to today's modern sound.
It's hard to say that any kind of metal music is popular in Serbia, but I can see that younger generation of metal lovers increasingly started to show interests in some modern metal sound.
Of course, we have some great traditional and thrash metal bands which play every gig with true "caught in the mosh" attitude, always succeeding to squeeze every drop of orange juice out of the Agent, so you can easily get lost and be founded crawling "beneath the remains" of amazing riffs and great atmosphere.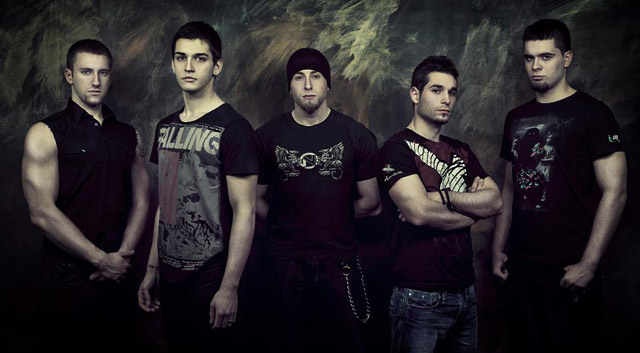 What can you tell us about Dot the Eye? How many albums have you released so far?
Well, in our own words Dot the Eye is really a powerful groove metal that spreads a special kind of energy through the music and riffs we create. Just five friends that have a similar goal, which is really sharing that music energy with all the possible people. We have our first album that we recorded an year and a half ago or something like that, and also we are working on the next one and we are really hopping that we make it as good as this one maybe even better but in a more progressive way. We haven't released our first album cause we are still searching for a record label that suits are genre and stile, but the main problem is that in Serbia there aren't really metal record labels..only for pop folk music..So we are searching a record label outside of our country. But this will not brake us we are still making music and preparing our second album.
Have you already signed for one label or you are planning to?
As we mentioned it ,It's really hard to get noticed by a record label that is foreign for us and not From our country..so we are getting our stuff and music to anyone who can help us to find our Record label match.
Have you already participated on some compilations or been featured in various magazines and play on radio station?
Well for now we are going to be on our first compilation with record label "miner recording" We were in some Serbian magazines like Nocturne and Metal sound but that's only in our Countries..as far as radio stations go..you can hear us on wolfhoundmetalradio.org and on atmosphere radio. Also we are sending all of our music to any radio that plays metal and is willing to play our songs for free .
I found also that you were known as Revolution before as why did you change the name? What does the name Dot the Eye represent?
When we named our band Revolution, we were young and still playing as a Pantera tribute band, so that seemed like a logical choice. As we progressed, so did our music style. The desire to make and play our own songs appeared, recording of demos started, so we realized that the only thing unoriginal and common was our name. The main reason for changing the name is really simple, just take a few minutes of your time and type on any search engine Revolution and you'll be stunted by how many band use this common name. Dot the eye is the name that represents who we are as a band and how we get things done―strong and straight forward, with a lot of "in your face" attitude, and as a result came this album, bringing it all together.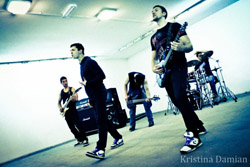 Do you plan to have some shows outside your country? Actually, how many times have your played so far?
Playing live is the most important aspect of ones band. Without that the band is nothing. Everything you hear on the album, first of all the energy which is dominant in all the tracks, we try to transfer this to our live performances. Every time we try to give our best making a true show for all our fans, adding a tributes to legends of metal music and bringing it all together in one unforgettable experience. That's the main reason why we play, cos there's no better feeling then seeing your audience know the lyrics, understanding and enjoying everything you do. We played in every shithole imaginable in Belgrade, as well as across the country. Hopefully, we'll try to organize a mini tour across the UK and Europe; hereby, we invite all bands wanting to play with us to get in touch, cos we play anyplace and anytime.
I like your sound and production on your first album so where did you record your album? Was it in Serbia.
It took us six months to finalize our songs, to find the "right" studio and producer who could understand and capture the sound that we imagined. Milos Mihajlovic from studio BLAZE was our best option and obviously the right choice for us. It was a great experience working with him and he helped us develop in the band that we are today. When George (rhythm guitar) took the album to his personal friends from "Monster Tracks Studios" in London, they were amazed with the quality and value of the sound we were able to produce. To tell you the truth, the most important things are not studios and producers, but the time and team effort that you put in your work. This debut album wouldn't be recorded without the help our family, friends and fans, so we would like to take this opportunity to thank them once again.