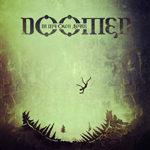 Solitude Productions – 2012 – Germany
The Russian Doom label Solitude production released in December 2012 the already second opus of the German 1-man project DOOMED.
A mixture of Doom Metal and Death Metal resounds. Long, halting riffs which could not be more Doom come upon Death Metal elements. This results perfect staged in the basic structure of the all in all seven songs. Calm, kept in the mid tempo area, a spate of death, depression and darkness packed in tones ripples towards the listener. Captured in a world without hope and light "My Own Abyss" is a no easy to consume cd. Emphatic Death Metal growls give the production additional hardness and gloom. Relaxed by several speckles of clean vocals and some melodic riffs "My Own Abyss" however goes musically astray. A very intense cd for which you should take time.
Here is also experimented with tempi which becomes the cd. Extremely slow passages reinforce darkness and depth. Pierre Laube did here everything right. Check out "In My Own Abyss". It's really worthwhile!!!