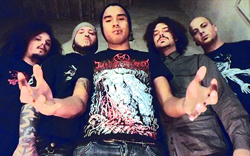 Dismail Faith debut album "Morph" will be out on May, 13th for Nadir Music. Recorded at Nadir Music Studios by metal-guru Tommy Talamanca (Sadist's Mastermind).
The upcoming full-lengh has been crafted to fully reproduce the "sonic wall of aggression" that the band unleash on the crowd during their live shows, making them in a short span of time, one of the most interesting acts of the whole underground scene.
Dismail Faith have succeeded in melting the most disparate influences like Death, Black, Thrash, Nu, HC, Groove and Metalcore.
The work features nine killer songs: prepare your ears to sharp guitars, war-sounding drums and merciless vocals. To be noticed the apperance of Cafa (from Kiju) in two songs, result of a long time artistic partnership between the two bands consolidated during the "Steel & Marble tour".
Promotion and press office will be entrusted to Nadir Promotion. More news are coming soon!