After a warmly approved debut release ("Nihilistic Vision" from 2009) and a major European tour with SODOM, DIE HARD returns with nine new compositions of old-school thrash metal. The Swedes' new album, "Conjure The Legions", will be released in Europe on September 25 and in North America on November 6 via Agonia Records.
A promotional video teaser featuring song samples from "Conjure The Legions" can be viewed below.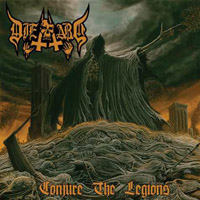 Tracklist:
01. Conjure The Legions
02. Masters Of Deceit
03. Satanic Uprise
04. Thrash Them All
05. Cold Scythe
06. Sanctify The Morbid
07. Antichrist
08. Stand Up
09. Robe And Crown
"Conjure The Legions" will be made available as a digital download, jewel-case CD and on black vinyl and limited to 66 copies yellow vinyl. Prior to the album's arrival, Agonia Records will also release a special EP from DIE HARD entitled "Antichrist". The EP includes two exclusive tracks: an alternate version of song "Antichrist" and a VENOM cover.