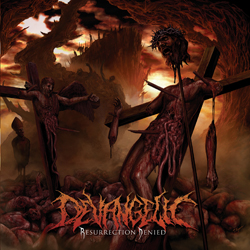 Hi Mario, how's it going! You Released this year Devangelic first album 'Resurrection Denied ' from Comatose Music how s the reactions to album so far and latest news from Band ?
Hey what's up? Thanks for the interview first of all! Well, the responses from the fans as well as the insiders and the press, wasamazing as we never expected. We have to reprint a lot of merch and cds as we sold out almost everything on the road!
We're gonna take a little break from touring constantly next year (but this doesn't mean that we'll not play shows at all) to focus on the writing process for our new album as our first album was some kind of rush. I wrote everything by my own and we arranged our parts in something like a month and still, we are so proud of our first record; but for our second release we want to take more time and write our parts together, adding some new elements and let the sound of the band grow.
You Guys Toured Usa (Comatour 2014) with Lust of Decay and Coathanger Abortion , How was this tour , how was the reactions from u.s crowd , in which cities you played and which one was the highlight of the Tour , any funny or shitty moments !!
That tour was incredible! The fans were crazy, we met so many great people around and Steve from Comatose did a GREAT job caring for us. The highlight of the tour is definitely when we played in Las Vegas at Las Vegas Deathfest, playing there in front of 600 people, hanging around with the guys of Mortal Decay, Gorgasm, Condemned and bands like these… The most crazy moment was when we were traveling in Indiana and we've been trough an incredible storm while driving, who lasted for a couple of hours! Scary as fuck haha! Anyway we had a lot of fun there, it was definitely a hell of a time!
You also play in Vulvectomy and some other bands , which band right now is your priority band , Can we expect new releases from Devangelic or Vulvectomy soon.
At the moment Devangelic is my main band; I spend many time to promote the band on the web and everywhere around because I want to bring this project on a higher level, for this reason I've already started to write new songs after the European tour in September. But also for Vulvectomy is time to get back on work and we have a lot of great news for the 2015! About a new Vulvectomy album I don't know yet when will be released (and for which label), we want to take our time to write our best full length, without stress, so I can't tell now when it will see the light but there will be a 4th Vulvectomy album!
As i know you are writing the all music in those bands , hows going song writing process for you , Are you also working in any job , how long it takes for you to manage and handle all those bands?
Yes I usually write the music for all my bands. About the song writing, it depends, I don't have a standard method, I can start to write first of all some guitar riffs or a drum pattern etc. I like to manage my bands on the best way possible so for me is not a problem to do that, I work usually during my free time, when I'm off from my daily job.
Italian brutal death metal scene is living its golden age in my opinion since last years , a lot of cool bands and releases coming out , can you tell us a bit abt the current bdm scene in italy and some bands to offer for our readers?
Yeah, it's a great thing indeed! There are a lot of great bands here and it's awesome to see that everyone is helping each other out with no jealousy. There are always exceptions on that, but I prefer to not to think about 'em and keep concentrate to the great things happening in the scene!
I also watch you guys last Lowlands death fest in italy and the live performance and sound was great , how many times you guys making rehearsals together , are all members living in same city?
Thanks a lot man! We don't live so far between each other but we don't rehearse so much as we don't need it. Like almost every band today, the most important thing for us is to study and focus on the songs at home and then maybe rehearse once or twice before a tour, it depends on how much time we have to do that!
From which bands Devangelic get some influences , whats you fave Bdm Bands right now in the Scene.
The most important influences for us are definitely some of the brutal death metal gods like Gorgasm, Condemned and Disgorge. Each one of us then has its own influences and it's good for let the band's sound grow and be more personal
You play Unholy Brutal Death metal and Vatican is just near you , Hows the general reactions from young people in italy to Christianity and religions , also hows the reactions from your families to your music are they supportive to your musical Career.
We don't have any problem with our music or lyrics, and we wanted to touch those themes precisely because we come from a city and a state where the Christian bigotry is everywhere. To be clear, as a lot of people asked us, we're not satanic or something like that, we're just against this religious bigotry who ruins the mind of people. But anyway we don't have any problem with our families and people in general
What we can expect from upcoming Devangelic Album , it will gonna be in same vein or you have some new ideas for new songs.
As I said before we want to take more time and write our parts together, adding some new elements and let the sound of the band grow. Of course the album will be in the same vein, but we're gonna experimenting al little bit more, let's see what happens!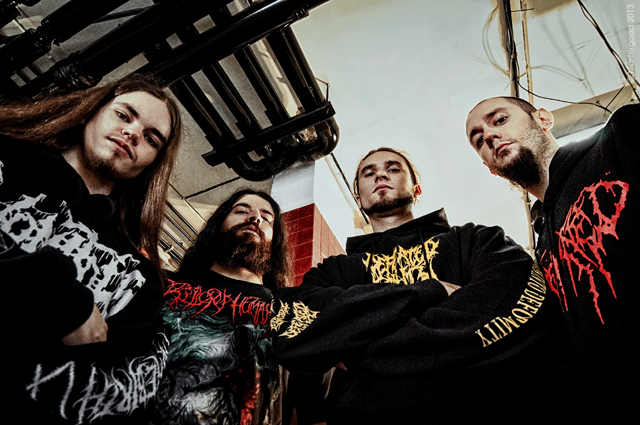 Hows the usual day in italy , beside the music hows going social life there for you guys?
It's kinda fucked up you know, there are a lot of social and economic problems. There's so much to say, I don't want to annoy you and the readers! Besides that anyway, there's great food, great cities and beautiful landscapes, so if you come visit, you'll definitely not be disappointed!
Do you know anything abt Turkey and Turkish Music Scene?
We know there are two great bands as Cenotaph and Decimation! We would love to play there because it's gotta be a very beautiful country, let's see if an opportunity comes!
Ok please tell your last words to Extreminal Web Zine Readers.
Thanks again for having us and keep your great work up! Just want to remember to everyone to follow us on facebook to be updated on the band's activity at this link: www.facebook.com/devangelic.official
Thanks a lot for the interview