The new album 'CRUSH, KILL AND BURN' by Düsseldorf, Germany based Thrashing Death Grind band DEBT OF NATURE is close to hitting the shops.

The record will see the light of day through DEITY DOWN RECORDS on July 12th. Mixed and mastered by ANDY CLASSEN at the STAGE ONE Studio and artwork created by German artist ROBERTO PARADA (a.o. EDGE OF SANITY), 'CRUSH, KILL AND BURN' has a running time that lasts well over 46 minutes.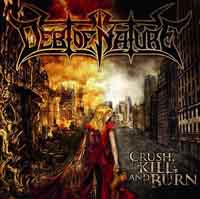 Tracklist:
01. Intro (Debt Of Nature Reprise)
02. Masturbator Generator
03. Crush, Kill And Burn
04. Like Breeding Rats
05. Insalata Tarantula
06. Eisenfresser
07. Why I Hate
08. Nightmare Of The Fashion Whore
09. Blackguard
10. Caterpillar Walk
11. Demise Of Dementia
12. Peeping Tom

A brand new song 'INSALATA TARANTULA', combining groove and enraged Deathgrind parts with an unforgettable chorus, taken from the forthcoming album, currently is available for streaming om the band's MySpace page.