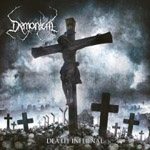 Metal Blade Records – 2011 – Sweden
Swedish death metal at it's finest, this band seems to be a mix match of band members who know great metal and have been in some of the best bands of metal today.
Great bass line by Martin Schulman ex-Centinex & Visions.
Johan Jansson on guitars formerly of – Uncurbed, Centinex, Dellamorte, Asocial, Fleshrevels, Moondark, Fulmination, Beyond, Panzerfaust, Sideburners, Hatred, Fuckface, Pyosisfied, Spritvev.
Ronnie Bergerstål – Drums – Formerly of Centinex, Julie Laughs Nomore, Mynjun, Amaran.
Sverker Widgren – Vocals – ex-Femicide.
"Black Inferno", "March for Victory", "All Will Perish", & "Darkness Awaits" are intense trax. Though a very powerful Swedish death metal release my only complaint is that it's nothing "new"-re-hashed. Don't get me wrong if your a death metal lover it's a keeper and a must get-just don't expect more than what it is-Swedish Death Metal-90's style.
7/10