Reviews
DEMONAZ "March of the Norse"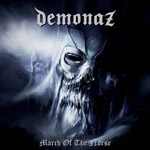 Nuclear Blast Records – 2011 – Norway
I have to say I am one of those who have been highly awaiting this solo album from Immortal's ex-guitarist, Demonaz. While the band's lineup is impressive with Ice Dale (of Enslaved) on guitars and Armaggeda (also formerly of Immortal) on the drums, "March of the Norse" is not as epic or as black metal as I hoped it would be. I would call this metal with elements of thrash and more of Nordic/Pagan metal influence to it. So I had to put my dashed hopes aside and listen to the album for what it was and all in all this is a decent effort put out Demonaz. Although a tad one-dimensional there are some atmospheric aspects to it and you can't deny that Ice dale is a skilled guitarist.
"All Blackened Sky" opens with powerful guitars and haunting choir and while the vocals were a bit cleaner than I had hoped, Demonaz still makes a solid effort upon deliverance. "March of the Norse" has a nice chugging rhythm but does get a bit dull with the repetitious chorus. The dual guitars on "Where the Gods Once Rode" are a nice change of pace and Demonaz brings more of an atmospheric quality to his vocals on this track with the somber choir in the background. "Over the Mountains" has a very catchy chorus but unfortunately not enough to completely capture your attention. "Ode to battle" breaks up the monotony a little with acoustic guitar and eerie vocals but that only lasts for a few seconds before "Legends of Fire and Ice" which is probably the most memorable track on the album with harmonic guitars and Demonaz gives his best performance on vocals.
While this probably will not be one of the top ten metal albums of 2011, it is a solid effort made by Demonaz. There are many likeable qualities on "March of the Norse". I would have liked them to have gone further with their sound to make it a little more memorable but they haven't quite reached that level yet. Hopefully they will in the near future, I am not giving up on them yet!
8/10