I welcome you to our Webzine. Let's start with the upcoming album's creation process? Could you tell me about it?
The creation process of "Belo Dunum – Echoes From The Past" was long and difficult. We introduced new influences in our sound: they come from our territory's musical tradition, with the use of chorus, accordions and other typical instruments. We worked a lot during the arrangement phase, in order to include it in our musical context. The lyrics writing took a lot of time too, because we didn't want to leave everything to fate, so we tried to read up in depth on the various themes of the album, digging into our land's past, finding the appeased legends and traditions.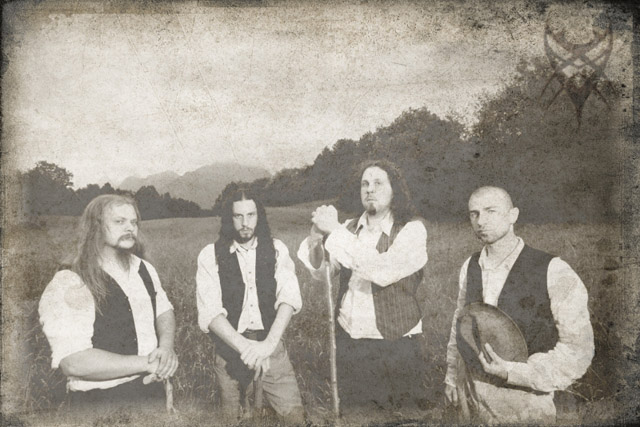 Your last album, "CreHated from No_Thing", was released at 2007. How was the post-album period for you? How was the responses? And the touring?
The period after the release of CreHated From No_Thing was rich and full of great satisfaction. In fact we played a lot and it was a privilege for us to open the concert of great bands like Asphyx, Massacre, The Haunted, Belphegor and others. These experiences helped us to grow as musicians: we learned a lot from them and, moreover, we had a lot of positive feedback from many of our audience members regarding the album and the various concerts, more than we expected! We are satisfied with what we have done, but we always aim at doing something better, also with this new album. We believe in it!
Let's continue with the your image, the promo you have sent me seemed different to me, you don't look like "Classic" Death Metal bands. Could you tell me about your image?
As I told you before, we dug into the popular tradition of our territory in this album. We wanted to follow this line also concerning our image, trying to reflect our grandparents at the beginning of the last century. You're right when saying that our image is different from the traditional 'Death Metal' bands, but this is a sort of tribute to our origins. Moreover, we think this detail can characterize us from the other bands!
You are a Death Metal band but you also have a different vibe. Where do you think "Delirium X Tremens" is in the genre of Death Metal?
Thank you for your words. I don't know where I can precisely put Delirium X Tremens in the Death Metal outline. We don't play brutal metal or war death metal… maybe we simply play Delirium X Tremens metal! Our sound research is always in constant evolution: we tried to create a sort of 'our own sound' from the beginning and, little by little, I think we are reaching our aim!
Recently a lot of activities going around at the Italian side however we haven't heard of any massive festivals. Could you tell us about Italian metal, concerts and about the fan base over there?
The Italian situation is more and more difficult. During the last year, some festivals were cancelled, while other reduced their dimension, in order to cut the prices. The situation is the same with regard to the places where bands can play: a lot of them recently closed down and nowadays it is always more and more difficult to play and find places to propose our own music, unless you are disposed to pay: then you can reach more opportunities. With regard to the audience, what can I say? There are many enthusiastic supporters, but I think we need a generational change: young boys and girls don't buy albums and hardly go to the concerts. They prefer to spend their time at the computer, it's convenient for them.

What about the Italian bands? Do have any suggestions?
There are many extraordinary Italian bands playing every kind of metal. The general level is every bit as good as the German or Swedish one. The main difference concerns the support and means at the bands' disposal to make themselves known and famous. Just some names: our fellows Seven Dark Eyes and Phaith, Imposer, Hour of Peance, Scarecrown, Soulpit, Smoke Circles, In Torment I Die. These are just a part of the underground scene bands in Italy who would deserve more attention, support and possibilities.
You have mentioned about Dolomiti Mountain 's mysterious aura in your biography. Could you tell about it to us? -What will you tell with the "Belo-Dunum" album? What are the differences from your past albums' theme?
Our Dolomiti mountains are majestic, imposing. The various men and women who live and lived here always respected them, with a sort of fear: there are many legends set in the Dolomiti mountains. They are like a frame of our life, this is the reason when we say that they influence and fascinate us. In Belo Dunum we want to sing these legends and stories which truly happened in our territory: they're charming and mysterious, but most of us don't know them. The main difference from our past albums is that now we speak about true stories, facts told by grandparents which marked our city. However, I think that there's always a thin connection between our past and our present: the hate for the nature exploitation and the misuse of power by men in the name of power and money. All these aspects always caused death and destruction everywhere, also to our territory and nowadays, we know it's still damaged.
Punishment 18 Records has signed and introduced to us many bands in recent years. What are your thoughts about your label? Do you like them or not?
Well, we are satisfied with the experience with Punishment 18 Records. Corrado and Marita, the owners of the label, are simple persons: we can talk about everything with them and, above all, we share with them the way of thinking about the various aspects of music and life. It's a pleasure to work with them. I think they worked in a very good way in their label during these years, finding and bringing to light some of the better bands of the Italian underground scene like Urto, Ground Control, Injury, Cadaveric Crematorium e Stillness Blade. We should admire a label like P18R, because of the work they carry on with passion, also considering the number of difficulties present in our current record market.
You have a EP and a album and will publish your second album in addition to these you have contributed to a lot of tributes. The one stands out the most is Russian Slayer Tribute. How was
your participation process? Which song you have covered?
We got in contact with the Russian Slayer fan club through MySpace. Slayer are one of our favourite bands: they are part of the group of bands we consider like the founder of a particular way of playing music and so we decided to contribute with the song Black Magic. We love this version of the song and we enjoyed very much in studio while recording it. Maybe we'll use it in some other EP in the future.
Could you give more information about your band's name? What does it mean? Or does it have any special meanings to you?
The first name of the band at the beginning of our experience was simply Delirium Tremens, the famous illness of the alcoholics. Then we discovered that there was another German band with the same name, so we decided to add the letter X in the middle of the name, in order to distinguish ourselves from the other band and also because this is the letter which represents the unknown, the uncertainty. We love this concept.

Let's close it with the words you want to tell to our readers and your future listeners. Thank you for your time.
Thank you for your interview and the support to our band! If someone wants to buy our album, this is our e-mail address where everyone can contact us for info: [email protected]. Otherwise you can visit our official site www.deliriumxtremens.com. Let's the icy wind of the Dolomitic legends enshrouds you!