Reviews
DEHYDRATED GOAT "Genocide Against the Brain Cells"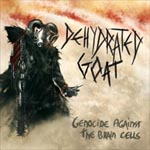 Coyote Records – 2010 – Latvia
I think this is the first time that I'm hearing from Latvia or maybe I couldn't remember because of not listening a lot. "Dehydrated Goat"formed in 2006 and released the first full-length album after a demo.
Dehydrated Goat, makes interesting, funny transition of songs and some mid tempo death metal influences grindcore music like all grindcore bands. Generally band used guttural and also sizzling efecty vocal is interesting. Guttural vocal is so successful to harmony the songs.
There is 43 sec grindcore version of "Phantom of the opera" in album. It sounds so funny. Also "Portable Anus" entertained me a lot:) "A Pimp Lost in the Desert" like it's name, it has a desert effecient begining. You'll understand when you listen that song. If I want to tell you how I enjoy the album song by song it'll take 20-30 paragraphs. That is enough, I guess…
I suggest this album to who entertains by grindcore. Have fun when listening. Succesful!
9/10