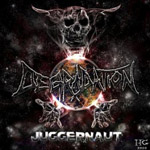 Self-released – 2011 – U.S.A.
Coming out of Chicago, Degradation brings that old school thrash metal that I remember listening to on my cassette tapes and they bring it with the same raw aggression that my metal heroes had back then. Full of energy and precision, you can tell that the whole band meshes well together. Everything flows smoothly and with a sense of determination. With a little bit of influence from thrash metal giants such as Slayer, Metallica and Testament this still keep their own sound and have your head banging throughout the entire album.
"A Necessary Evil" comes in with a killer guitar lead and chugging riffs with energetic vocals supplied by Alex Manske and they refuse to slow it down with tracks such as "The Reckoning" which is pure thrash from beginning to end. "Rise to Fall" shows some crushing drum work done by Joe Manske and a shredding guitar lead with power shouts that will have you pumping your fist in the air.
Degradation's cover of "Executioner…Slayer of the Light", originally done by The Crown, is done with great skill and again just that raw aggression that, in my opinion, has been missing from the scene for awhile. They close out with "Thrill of the Kill" that's full of fury and have you starting a mosh pit right in your living room.
"Juggernaut" is an awesome first release from Degradation, something metalheads all across the board will want to check out. It's always good to hear fresh bands with this kind of talent coming out; it restores my faith in metal once again!
8/10