Reviews
DEGENERHATE "Chronısles Of The Apocalypse"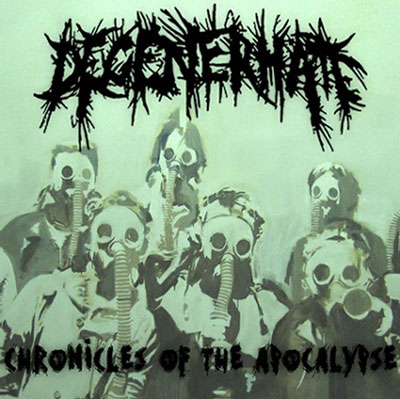 Self Released – 2013- ITALY
The Italians DEGENERHATE already released in 2013 their cd "Chronicles Of The Apocalypse" in in-house production. Already since 2002 musically on the road the gents will put this year their opus with the help od the label Sliptrick Records on the market internationally.
DEGENERHATE crush extremely brutal and merciless everything which obstructs. Rough Death Metal which goes in many passage without any transition into the Grindcore area resounds. In an incredible speed played songs which are however also diversified and variable. You can even hear calmer passages which nevertheless contain sufficient bite and hate within themselves. A festival of intransigency and energy which is thrilling and extremely furious. The partially extremely fast drumming as well as the powerful riffs and solis give additional energy and most of all hardness and self-assertion. Here is thrashed to a fare-thee-well. Forceful bass-lines round off the musical works positively. The dark, distinctive growls of vocalist Renato Lucandri are yet the icing on a cake. The all in all nineteen songs are all very short which is in dire need because of the high speed. Needless to say that the neck muscle is here in continuous rotation. The two cover versions ("Cannibal Ritual" (BLOOD) and "Running Through The Blood" (FEAR OF GOD)) have also turned out well which is not always taken for granted. Listen to "Chronicles Of The Apocalypse" preferably yourselves and form your own opinion!!!!
8,8/10