Tell us a few things about the band…..When did you start, how you evolved and how you reached today.
Decemberance was formed in September 1997. With some changes from the original line-up, our first demo "Decemberance" came out in January 1998, obtaining good reviews from the relevant Greek press. After performing many live shows during 1998 – 1999 in Athens' local clubs, our 2nd demo "Just a Blackclad…" came out in January 2001, with equivalent response by the press, giving us the opportunity to support acts such as Marduk (2001), Candlemass (2002) and Kaamos (2003), as well as many native bands. With new line-up changes, the band, with a different perspective on sound recorded "Time" Promo CD which is part of the upcoming Concept Album.
In the years you exist as a band, a lot of line-up changes have been made. Did this had any impact on your evolvement?
Any person who is involved with the band brings his or her musical influences. From the begining, till now.
As you can understand, the line-up changes affect the sound of the band. But the musical perspective is clear enough,so a change cannot influence the overall status.
You have already made some demos but up to now you haven't been signed. How hard is it for a doom metal band to be signed?
No label wants to sign a "Demo band". Everyone wanted a full time album. It's not a "doom metal" issue, it's about a band's capability to play inetersting music.
Do you think that the area your sound belongs has a future, has anything more to offer?
Of course it has, that's what we are trying to achieve. Of course we have things to give.
Which are the bands that mostly influenced you?
Too numerous to mention. Death metal bands, Doom metal bands, 70 prog., Black metal, you name it… If you want names, M.D.B., Morbid Angel, Pink Floyd, Darkthrone, the list goes on….
The average duration of your songs is 13-15 minutes. Do you think that this can be tiring for the listener?
The duration of a song is something irrelevant to the plot and the feeling you want to express with a song. Extended structures come naturaly to us and at this time serve our upcoming concept album.
Wouldn't it be helpful to have also some "radio" songs of medium duration, so that a radio station could play them?
We do have one, in our upcoming album, a five minute song, hehe… But the goal is not airplay, it's to play music we like.
How do people accept your band? What are the general comments you get for your music?
So far, the feedack is very supporting and uplifting (as far as Doom can be uplifting hehe…).The comments are not far from what we would like to hear.
What are the themes you put in your songs? What inspires you?
Our upcoming work is a concept album. The lyrics describe 24 hours of a common man while he's fighting with his nightmares and the adherrences of his life. The structure of the lyrics is not as "thick" as for example a King Diamond album, but each song can stand on it's own, both musicaly and lyricaly. But the story is there, given not in facts, but in emotions that the music supports.
How do you write a song? How an idea is involved?
Anyone can throw riffs on the table, and the process starts from there. Many studio sessions later a basic structure of a song is born, and is subject to many changes until we deceide it's coplete.
Who's the lyricist, who's in charge of the music and how do you evolve one's ideas so that the rest members get the atmosphere?
Lyrics are written mainly by Yiannis F.. Some times before, and some times after the composition of each song. As for the music, we support teamwork.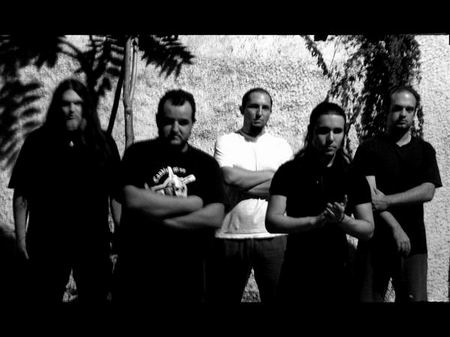 Which do you believe is the best way to become known? Playing live gigs, through the net, or what?
Of course a live gig is the ideal way to be introduced to a listener, but nowadays internet is a handy tool for any band to spread it's reputation.
What do you think of the Greek scene in the area you belong?
There are not many Death/Doom bands in Greece, but there is a core of 5-6 bands that are building and supporting this movement. These bands do a serious job, worthy of recognition. Some of them are Shattered Hope, Hedon Cries, Crownnest. Check them out!
And what about the International scene?
Doom metal has always been an "underground" movement and the bands are mostly low-profile but consistent. Unfortunately one thing that plagues the scene is "sameness" and unoriginality. We hope we are not one of them.
Which are the bands you'd love to play with?
All of them! Hehe… We want to be on stage as much as possible. Of course M.D.B. Evoken and Saturnus would be on our "top list".
Future plans?
Completing the album, signing on a worthy label, and playing live as much as we can, in many places.
Thank you for this interview,good luck!
We'd like to thank you for the support! Doom on!