Hi to you Debt Of Nature from Extreminal Webzine in Turkey! First,I want to specify so you've created of your own a special genre. And of course, it will be sound like a different effect upon your listeners.
Marcus: Hey Naenia, Greetings from Düsseldorf and thanks for your request, how are you doin?

I'm fine Marcus, thanks.But i was busy with my own work's stuffs in these days.Therefore it was later interviewed,I'm sorry for this reason. Yeah, if you want to let us skip to questions now 🙂 I want to ask my first question about history of your band as standard. Could you please give us some information relevant to the past, this day and line-up of your band?
Marcus: Well, basically we are a beauty and five beasts. Four years ago the beauty was missing, but our musical approach was still somewhat "beasty", hehe. We came together as the remaining creative parts of three bands (Round The Void, Legacy Of Darkness and something that was to become the band Sabiendas). For the time of a year or so we composed the first songs, recorded a demo and then started to play live. In 2008 we recorded our debut "Dreams Kill On Command" which got great reactions from fans and critics and helped us to set our mark on the map. We played big festivals and broadened our radius. In 2009 we signed to Deity Down Records, recruited Kev (drums) and Masae and started to write "Crush, Kill And Burn". And here we are.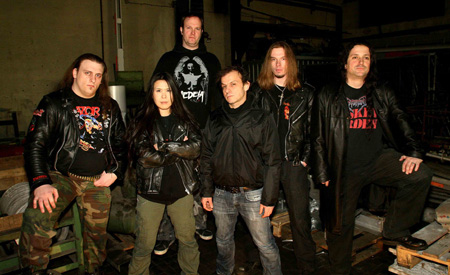 What are the missions of your members within the band? And How are your moods while you compose your songs?
Marcus: I wouldn't call it a mission but if I understand your question right, you want to know how we feel while writing music and what we wanna express with our lyrics, right? There are two stages within the process of composing music. First we are testing riffs, beats and vocal lines. Then we put them together, often with a lyrical idea in mind that evolves step by step. Our mood is a positive and good one cause we put every bit of aggression in performing music and are somehow "cleansed" afterwards. The lyrics mostly deal with real-life situations that are disgusting, unfair and to our opinion worth to be changed. Together with the emotional performance it seems that those stories and informations are hammered into the heads of the listeners. They can decide what to do with them.
Marc: Hi Naenia, like Marcus said, we're not on a mission. We meet in our rehearsal room and Marcus or Simon come with a new song or riff, or maybe it's me, having written some lyrics and expressing my vision of a song to them. Then we perform the new parts, again and again and again, 'till the new song is finally born.
I know stuffs like mixing and mastering for your new album done by ANDY CLASSEN.How did you create your own sound? And did your album really permeate into you when everything was finished?
Marcus: Our sound is a somewhat mixed pickles-thing cause we use certain old school vibes like thrashy riffs and classical death metal licks, and then flavour them with melodies, black metal parts or hardcore-based grooves. So what we needed was a clear and fucking aggressive sound without too much triggers or overdubs. And I think, Andy did an awesome job. In short: Yeah, the album sounds like we thought it should sound.
Marc: Yeah, we have to thank Andy for his awesome work. It's a real killer production. Listen to our album on maximum level. Destroy your ears and bang till death!!!
In the end, your expected album went out from the Deity Down Records. Do you satisfy from the concerts, organization and promotional works? How's going everything in your life? What are your plans and targets for your future?
Marcus: We're just in the midst of planning live activities. Promotion is running good so far. There are interview requests, overwhelmingly good reviews and a cool response from the audience. What we clearly want, is to grow. It's a natural thing. We came together, wrote our first songs, did our first gigs, our first album, greater gigs, record deal etc. So, we want the next higher step, cause there's so much music in us and if you've seen us live on stage, you know that we're no damn quire boys.
How's your relationship with your fans when you were on the stage? Have you ever remembered any interesting memory about the stage-time?
Marcus: Oh, there's a lot memories, Naenia. Some of our greatest fans have joined every show since 2007. Imagine that – I mean, we're not Slayer. They buy birthday presents for the musicians and stuff like that. It's a small but clearly fine comfort that's worshipped by everyone of us.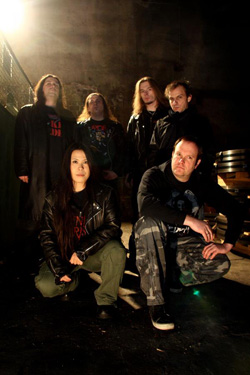 What are your principles as an extreme band? Do you have any limit or rule about yourselves?
Marcus: The only rule is not to wimp out. I don't think that Debt Of Nature would work with clear vocals, but maybe I'll change my mind about that, cause slowly I'm becoming an old bastard, haha.
Marc: We are planning step by step – that's our credo. Let's see what the future brings.
What do you generally think about the extreme music and its crew? What do you annoy or make you proud within this crew and extreme music at the most?
Marcus: What makes me proud is clearly the fact that so many people are working with their skills, heart, sweat and blood to keep a scene alive in which you can't earn millions of dollars or become the next big thing. It's just because they like it. That trueness makes it a really earnest and honourable cultural issue. What I hate are all kinds of scene polices – especially in the black metal and the deathcore scene. Those guys should focus on the spirit of the music and not on the company that produced their pants.
Marc: When I grew up back in the eighties, there was a great scene and all people from diverse genres stood together and celebrated the fact of being underground. I like the idea that 20 years later it could be the same. And it could, cause we live in great times again, have loads of great new bands and strong veterans.
Some bands are going to change their genre or sounds in the cause of popularity.Would you ever think somethings like this for your band's future or always go on the same way?
Marcus: I think, our sound is so diverse and variable that no one would even notice, if we'd change it. No, I'm just kidding. We definitely wouldn't change something for commercial reasons. And if we'd change our style for artistic reasons, be sure that we'd continue to play the old stuff. This is some kind of trauma for me: I will never forget a Massacra-gig in 1994. They only played songs from their crappy-boring "Sick"-Album. A band that wrote an immortal anthem like "Enjoy The Violence".
Marc: I can understand what Marcus said, we'll never change our style for commercial reasons, but at the same time II don't want to play the same stuff over and over again for the next 20 years. A band should grow and evolve with every album. For me it's an important thing to get better with every song, every album. This has got nothing to do with commerce.
Which countries do you like to perform especially?
Marcus: Turkey man – just get us tickets, beer, food and a place to sleep and we'll rock your country.
Marc: Everywhere man, we'll play everywhere if the conditions are perfect!!!
Which bands or music kind were you impressed by in your life time? What are your favorites?
Marcus: My alltime-faves are Iron Maiden, Slayer, Megadeth and Morbid Angel. They are still the ones that impress me. Furthermore I like the ultra-brutal death metal, some soundtracks or rather smooth stuff by voices like Tori Amos or Lara Fabian.
Marc: I grew up with metal, punk, HC, grind, all that heavy stuff.
Here a few bands which never leave my cd player today:
1. Heathen – The Evolution Of Chaos.
2. Armored Saint – La Raza.
3. Exodus – Exhibit B: The Human Condition.
4. Accept – Blood Of The Nations.
5. Overkill – Ironbound.
One more question for you. Could you please give some advice to extreme musicians like your? And do you have anything else you want to tell for your listeners and supporters?
Marcus: Believe in yourself, create your own style, cause extreme metal is about building an individual identity – that's its rebellious character. Don't copy other bands that are hyped at the moment. Ah – and rehearse, rehearse, REHEARSE!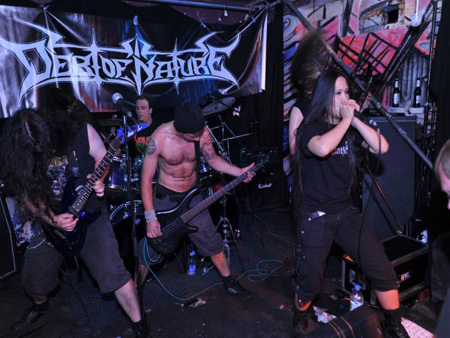 Thank you very much for the interview and we hope so you will be more successful in the future. Stay Extreme!!!
Marcus: Yes Naenia – thank you for the interview. Keep on doing your great zine. Greets to all the Turkish headbangers out there. See ya!
Marc: Thank you so much for the interview in your great zine. Maybe we come to Turkey to mosh with you all. Visit our websites: www.myspace.come/debtofnaturemetal or www.debtofnature.de
Mosh on.