Greetings and welcome to Extreminal webzine. First of all, would you please present your band and it's members to our readers? How did you started to play slashing thrash metal? Who or what were your main influences?
William: Greetings Extreminal followers , the formation of Deathraiser is Thiago (Vocals / Guitar), William (drums), Ramon (Guitars), Junior (Bass), the band was formed in 2006 under the name Mercilless, started the band in the pretense of playing the true Thrash Metal influenced by bands Slayer, Kreator, Sepultura (Old) Metallica (Old), Vio-lence, Demolition Hammer among others, believe to be our main influences.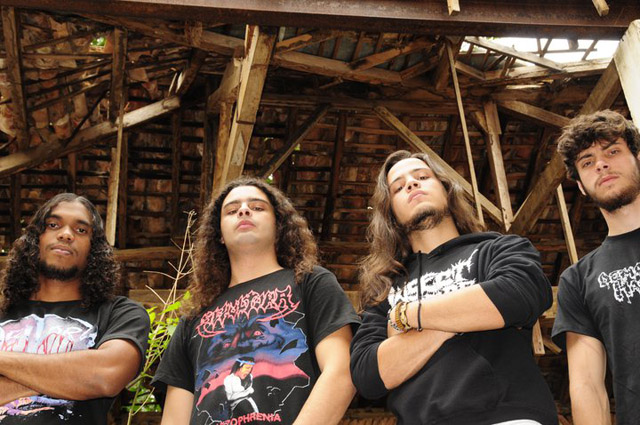 The former name of your band was "MERCILLESS". Why did you change it and decide to call your band "DEATHRAISER" instead? Who was the namer?
We decided to option for change because we had seen several "Merciless" the world, for there were many comparisons, and also by discontent, just moving to Deathraiser, we saw that it would be a cool name in accordance with our "new" sound proposal, sounding more aggressive. The name was chosen by me and Thiago, taken from the band's music Attomica Brazilian.
Let's talk about your debut album "Violent Aggression". Where did you recorded it? Are you completely satisfied with the final result? Before the creation of this album, did you recorded any bootleg demos and/or do you have any unreleased material?
Well, we recorded the "Violent Aggression" in a studio well known here in Brazil, DaTribo Studio, where we spent several major bands, was produced by Ciero Experienced producer (Krisiun, Claustrophobia, Mystic, etc..), We chose this studio for professionalism exists because we can get a very satisfactory result, and like much of the final process for this record there remained unreleased material, and also did not do a pre-production, but the Brazilian version that will still leave, the bonus will be our first demo "Possessed By Thrash."
How did you get in contact with Xtreem music? Are you happy with your mutual work? Xtreem Music is a very active label on the scene, did you get any bad or good reviews from any magazines/webzines?
This contact was when we recorded our first demo, and put some songs on myspace, it was then that Dave Rotten's Xtreem Music, contacted interested in releasing some material from the band, the EP would be a start, but eventually turned into a Full Length, back and forth many positive things happened with this partnership, we are having very positive reviews of the album in various parts of the world, in magazines, websites, zines.
Do you like other bands from the roster of Xtreem music? Which one is the favorite of band members in general? If there would be any possibility for releasing a split album with them who would you choose?
Of course, the Xtreem has a cast of good bands with different styles, like the Omission, Avulsed, Breathless and others, if we would do a split with Avulsed, haha it would be unusual and different.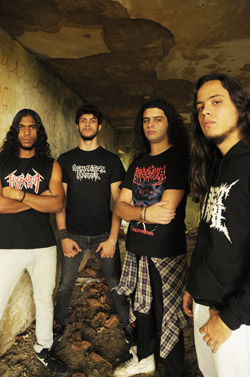 Isn't it difficult for you, as a Brazilian band, to work with a label based in Spain? Are there any good Brazilian metal labels? Did you specially prefered working with an European label? If yes, why?
We see no difficulty working with a label out of Brazil, it is clear that here in Brazil if certain things would be faster to solve, nothing more detrimental to the band, we have many great label here in Brazil, but this partnership Deathraiser / Xtreem was something very natural, as we had no contact with any label to launch Brazilian, close to the Xtreem, but of course we would like to have our cd released here in Brazil, and this has just been closed to Kill Again records, for Deathraiser will be very important to have these partnerships because it will be great for the band.
Do you have materials prepared for the second album? If yes, when will you release it? And we would like to know about your lyrical concept for the first album, and for the upcoming releases, will it change directions? Or continue with same mentality?
We are beginning the process of composition for the second album, but we have nothing concrete, we expect it to be released in 2013, the lyrical concept of the first album was very based on the context of criticism about an apocalyptic future, with some cliches of the style also and other matters, but of course the second we want something more evolved without being too utopian, and it may be that the concept of the second album to be something more serious, talking over things real feelings about the shit in this world, that is more critical -social than the first.
8. How often do you play live? Have you played anywhere outside Brazil? Do you have any tour schedule prepared?
William: Lately we've played in some places here in Brazil, having a great reception from the public, has not played outside of Brazil, at the moment is something that we seek this year could make a tour outside or even in Brazil, we are planning a tour for July this year in South America, hopefully we will this tour.
How is the metal scene in the area? Are there many thrash bands and fans? Is there any metal gigs/festivals happening? At the lastest concert videos of yours I have seen, your audience seemed very fanatic and they really thrashed around quiet a bit. Do you have a fan base like that at your hometown? It seems to be like that but what are your thoughts about this?
The scene in Brazil, long walks on the rise, is rising very bands, both in our city as elsewhere, our region is growing a lot, grown a lot the number of festivals and concerts, and it ends up reflecting in several other places in Brazil, where our friends also organize festivals to promote the union of the scene, our city we have many friends who enjoy the band and accompanies the shows, we think it very important to the band and the local scene, because we feel that we are increasingly united in favor of metal.
What do you think is the reason why there has been a big interest in oldschool speed/thrash sound lately in the scene? Do you like any new thrash metal bands? Are there any bands that you have been a die-hard fan of?
In my view, this interest in oldschool Thrash is perhaps the quality of some bands to make a cool sound, to show that thrash is not stopped, I see that more and more bands try to professionalize, and raising the flag of thrash metal his country, like many bands of the thrash metal scene today, and we feel that it is getting stronger, not merely something of the moment, like to many bands, both here and outside of Brazil is difficult to say but I will indicate some Violator, Farscape, Braindeath, Vodkaos, Facinora, Acid Speech among other hahaha.
Which thrash scene is your favorite? European (German etc.), American (Bay Area etc.) or Brazilian one?
It has many good bands today, here in Brazil is my favorite Violator and Farscape, the South American is Strike Master, Tungsteno, in europe like Suicidal Angels, Dr.Living dead among other things, like the U.S. Fueled by Fire , Municipal Waste, Toxic Holocaust and more.
How far do you want to go/reach with this band? What are your future plans with "DEATHRAISER"? World tours, new albums, being kings of the underground scene or being a legendary thrash metal band?
Our assumption is always be active in the scene, being faithful to what we enjoy and doing what we like, we have no pretensions of being famous or something, we want to produce in this environment that is underground, doing shows, tours, organizing events, however that there will be difficulties breaking the walls.
Do you have any closing words to our readers? Thanks for the interview.
First wanted to thank you Cenk for this great interview at all Turkey's thrasher, and everyone who enjoys the Deathraiser, we hope to meet you someday in a concert of the band! Keeping Thrash!