Reviews
DEATHRAISER "Violent Aggression"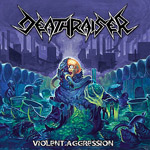 Xtreeme Music – 2011 – Brazil
Hailing out of Brazil Deathraiser gives you some crushing thrash metal that are along the lines Dark Angel, Slayer, Vio-Lence, Exodus and Kreator.
Deathraiser started out as calling themselves "Merciless" in 2006 with a crazy passion for thrash metal and a promise to only play it in its rawest and purest form. Though they changed their name to DeathRaiser in 2009, they still delivered their music with pure brutality and with their latest release "Violent Aggression"; they show they have the ability to continue to carry that power and fury for years to come.
Thiago comes screaming through on vocals with the opener and titletrack as the guitar and drums supplied by Ramon and William are played with an incredible force that holds a heavy old-school Kreator influence. These guys continue at full speed with tracks such as "Terminal Disease" and "Command to Kill" that opens with a violent riff and power shouts in the background.
While the album doesn't hold too much in the way of variety, DeathRaiser show a lot of promise with their debut album and obvious respect for the thrash metal genre. If you want to go back to the old days of pure thrash metal then go out and get you a copy of "Violent Aggression"!
8/10