'The Emptiness Within', new album from U.K. progressive black/death metallers DE PROFUNDIS, can be fully streamed for a week at the band's official
Bandcamp page
.
'The Emptiness Within' was released on May 7 in the U.K. and will be released on May 11 in the rest of Europe via Kolony Records. The CD was once again produced by Fernando Pereira Lopes (MISANTHROPE, ORAKLE) and DE PROFUNDIS and was mixed at the Studios Davout (AC/DC, THE ROLLING STONES, OZZY OSBOURNE) in Paris, France. The cover artwork was created by the renowned artist Costin Chioreanu (Twilight13media), who has previously worked with ULVER, DARKTHRONE and ABSU, to name a few.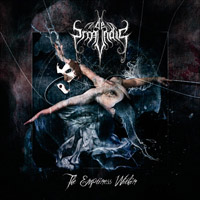 Tracklist:
01. From The Depths… (intro)
02. Delirium
03. Silent Gods
04. This Wretched Plague
05. Twisted Landscapes
06. Release
07. Dead Inside
08. Parallel Existence (instrumental)
09. Unbroken (A Morbid Embrace)
DE PROFUNDIS' second album, 'A Bleak Reflection', came out in February 2010 via Kolony Records.