Candlelight Records confirmed October 9 as the North American release date for DAYLIGHT DIES' new album, A Frail Becoming. Mixed by Jens Bogren at Fascination Street Studios (Opeth, Katatonia, Devin Townsend), the album features photography from award-winning Jonathan Mehring and packaging design by Agni Kaster. The release of A Frail Becoming silences a nearly four-year writing gap from the quintet.
"A Frail Becoming is an album which, at many times during its creation, felt as if it may never be realized," states drummer Jesse Haff. "As each of our lives proceeded down different paths, the challenges and obstacles we faced felt daunting and at times impassible. Out of this struggle we forged ahead, determined to write the best collection of music we've ever created. Thankfully our perseverance prevailed and A Frail Becoming stands as the most accomplished and varied album of our career."
Recording of A Frail Becoming commenced late 2011. Bassist/vocalist Egan O'Rourke coordinated capturing individual performances of Haff, guitarists Barre Gambling and Charley Shackelford, and vocalist Nathan Ellis. By year's end, the raw tracks were ready for Bogren's impressive and critical touches. Haff notes, "While still sounding distinctly DAYLIGHT DIES, each songs stands independently on its own, uncompromisingly representing a reflection of the moment in time they were each born in. Expect beautiful and haunting guitar-driven dark metal, enveloped by a wall of rhythms and textures one minute, and deeply expressive guitar leads, solos and acoustic passages the next."
Formed in Asheville, North Carolina circa 1996, DAYLIGHT DIES found an immediate and continually growing fanbase starting with the release of their debut EP Idle (2000). Decibel Magazine describes the band's musical offering as, "a lot like spinning Anathema's The Silent Enigma, Katatonia's Discouraged Ones and The Cure's Pornography at the same time." Blabbermouth notes, "their switch from harsh and anguished vocals to airy, Opeth-esque clean vocal works magnificently to grab the listener's attention and give one pause for reflection on the beauty within." After releasing one album for Relapse Records (No Reply, 2002), DAYLIGHT DIES signed to England's Candlelight Records in late 2005. The band has since released two acclaimed recordings (Dismantling Devotion, Lost To The Living), performed with labelmates Emperor to two capacity New York City shows, toured North America twice (alongside Moonspell and Katatonia 2006 and direct support to Candlemass 2008), and now ready for the autumn release and anticipated early 2013 tour.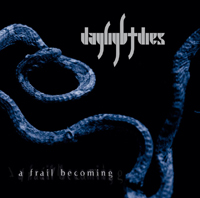 Tracklist:
01. Infidel
02. The Pale Approach
03. Sunset
04. Dreaming of Breathing
05. A Final Vestige
06. Ghosting
07. Hold On To Nothing
08. Water's Edge
09. An Heir to Emptiness
DAYLIGHT DIES is currently working on a video for the song "Dreaming of Breathing." The clip is being filmed by Ramon Boutviseth, who also directed "Lies That Bind," a video filmed shortly after the release of 2006's Dismantling Devotion.