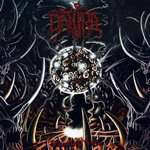 Coyote Records – 2010 – Ukraine
Datura is a succesful band in this market for 11 years. They are from Ukraine. They have done 2 good album and a lot of demo in Brutal Death Metal. They have been hiding their soul underground but this year, with the "Standing Wave" they have been one of the classy band I think.
This album was released by Coyote Records and has 9 songs and 25 minutes. With lame ups and downs in rhytms and with the vocalist who feels himself as a serial killer and does guttural things, the album is going on as an ear-fucking style.
Sudden downs in their music is a factor that give a meaning to their brutalities. I like most in this album; "Analogies Of Appesrsnces" and "Stench And Madness". I recommend you to contact with band or Coyote Rec. and get information.
8.5/10