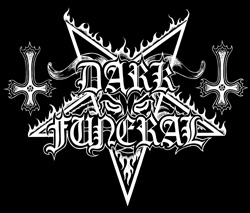 You are preparing to release your new album… What recent news in Dark Funeral?
Lord Ahriman: Yeah, on Nov 18th we'll once again strike the world with a new full-length album entitled "Angelus Exuro Pro Eternus". And a new dark chapter in the Dark Funeral saga can officially begin. As u perhaps understand, at the very moment everything that is happening in the Dark Funeral camp is all surrounded by the new album, from completing the CD layout to planning new tours and so forth.
"Angelus Exuro Pro Eternus" will be released in Nov 18; we did not have a chance to listen it, would you tell us about the new album?
With "Angelus Exuro Pro Eternus " you're sure in for a nice evil treat, no doubt! I'm extremely satisfied with the result. The production kills, the songs kills, what more can I say!?. Musically it is our most powerful, technical and varied album to date. There are more rhythms, tempo changes and its perhaps not as genuine straight as its precursors, which makes it to our musically most interesting album to date I think. And mark my word. The drum-work by our new drummer, Dominator, is nothing but phenomenal! The album included a total of 9 tracks; whereof three of them are mid-tempo.
There is a bonus DVD in limited edition copies of album which have scenes from P&L Fest, would you tell us about your performance in P&L Fest for peoples who can't reach the limited edition.
The P&L show was set up and arranged to celebrate our 15 anniversary as a band. So it was a very special show indeed. It was also the very first time we used a professional pyro crew to set off some fire and bombs throughout the show. It felt just killer when they set off the huge bombs from below the stage. You could feel the whole stage floor lift. All in all, we definitely got more taste to use more pyro at our shows. And we have tons of ideas how to improve it. Be aware!
Are the people who cannot reach the limited edition cannot get this DVD? Is there will be a separate release?
Yeah, I would assume that eventually the P&L DVD will be release separately, but who knows when…
How about your album recording process, can you tell us about this for people not get the new album news yet?
On this album we decided to once again return to Abyss Studios and work with Peter Tagtgren. And even though it was 8 years since the last time we worked together, it basically felt just like coming home after abit of a longer tour. The atmosphere in and around where the studio is located is very inspirational. And Peter is just killer, and very easy to work with.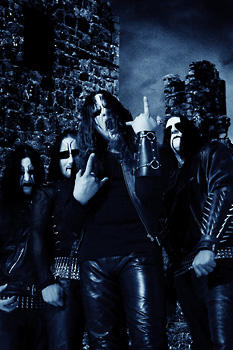 "My Funeral" hits the headlines on MySpace and YouTube, It's become a legend already and Dark Funeral quality is the top reason of we want an interview with you, can you tell us something about video clip?
Yeah, we're all a bit overwhelmed on the enormous response we have received, not only for the video in itself, but especially how much praise our new song "My Funeral" has received from all of the hidden corners of the world. We obviously did have the feeling that "My Funeral" was going to be a great first song to release from our new album, but we surly didn't expect it to receive such a mighty praise. The song even seems to have turned the most hardcore Dark Funeral skeptics into digging it and that's a
great achievement I'd guess. True, already after 2½ day, and approximately 30.000 views, MySpace apparently decided to pull the video off the site. So far we haven't gotten any explanation whatsoever as why they pulled it, but we assume that the "suicide scene" might have been a bit too controversial in their eyes, but who knows!? Either way, when they pulled it, we decided to remove that one scene and upload it again. And so far it's still up. At the same time all of this occurred at MySpace we were informed that the video also was an instant success on YouTube, being the most viewed music video during the first week online. And in my book that's pretty sick to say the least. The video was shot in and outside an old and closed mental hospital by Standard Film Team [www.myspace.com/standardfilmteamumea]. The environment at the mental hospital was just killer and suited the video theme perfect I think. Anyway, what are you waiting for? Go check it out! www.youtube.com/darkfuneral
I read an old interview, your producer tried to get you to use some keyboards, give us some information about it please…
True. On our last album "Attera Totus Sanctus" we worked in a different studio and with a different producer. And apparently he didn't know that we have an unwritten rule to NEVER use keyboards in our music. Here's the deal. Some bands use keyboards to achieve a certain atmosphere in their music, some don't! And I'm totally cool with that, but as a guitarist and songwriter myself; I rather try to work with the guitars in a way to achieve "that certain" atmosphere instead of using some artificial effects. Anyway, no big deal, but we're just not one of those bands that use keyboards, that's all.
You are working with Regains Records since 2004, we thought that you are ok with the Label, can you tell us about your Label?
Yeah, the cooperation between them and us are great, but a label is a label, if you know what I mean!?. What differ the good once from the bad, is if you can discuss certain things on a professional level, come to compromises and so forth, or if the label totally want to take over the control of your band. And basically do and treat the bands as they please. Regain belongs to the first category, whereof we are still working with them.
You are one of the most successful metal bands in the world, many of people have your t-shirts, and also there are a lot of fans in Turkey. Nevertheless local metal bands are not so emphatic in Turkey. How this situation in your country?
Well, Sweden has always had a great and very strong underground metal scene. We still do. To be playing BM is not an easy task. And before you get into this, you should be ready to do tons of sacrifices along the way. And most importantly, that you're totally dedicated and do this for the right reason! If you're not into it to for the right reason, it surly will make you disappointed. And you won't last long in the scene.
Do you have any news will rejoice your fans in Turkey? Will we watch you in Turkey? Or do you have anything to say Turkish organizations?
Not more than that "November the 18th" is the day you should visit your local record store and get your hands on our new album, that is if you don't buy it online or order through any of the mailorders. We sure hope to play Turkey one day soon. I've actually visit Turkey over one day a couple of years ago. It was great. And I'd totally like to come back, but the next time I hope it'll be with the band. If there's any serious booking agency who wants to book us they should contact our booking agency;
www.dragon-productions.com
Ok that was the last question, that's all; do you have any last words to say?
Thanx for yur show of interest. I hope you'll enjoy our new piece of dark art once released. Hail Metal. Hail Satan! /Lord Ahriman