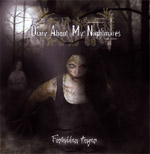 Unexploded Records – 2010 – Germany
German band Diary About My Nightmares is known as D.A.M.N mostly. Formed in 2001, the band has a demo and an album. "Forbidden Anger" is the second full-lenght album of the band.
I always like the death metal bands' sound. D.A.M.N is one of them, this production is deep, filled and you can feel the basses. They make melodic death metal, songs are medium tempo. Actually you can't call this 'medium tempo' but this isn't fast enough for a death metal band. You can feel some core with vocals and some riffs, but this effect isn't felt every time, not general. Last of all, this is "German Death Metal".
As a bonus there is a video clip of Das Vermächtnis from the album "Vermächtnis". If you want to know what this band is like, I would say Illdisposed. This is a nice album that I can suggest to the ones who love this genre.
7.5/10