News
Curse Of The Forgotten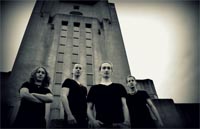 Dutch melodic death metal band Curse Of The Forgotten have signed Aural Music Group/Wormholedeath.
Wormholedeath will release their massive debut album titled "Building the palace" worldwide through Aural Music Group/Wormholedeath Japan. The album was produced, recorded, and mixed at Realsound Studio (Italy) by Wahoomi Corvi then mastered by Christian Donaldoson in Canada.
Release date is due during 2013, still to be scheduled. You can stream the album below.
The whole band together stated : "We are honored and very fortunate to say that we have signed with the record label WormHoleDeath. It is great that they are just as enthusiastic as we are to make this a good partnership. Our new album Building the Palace is in good hands. Working with WormHoleDeath in Realsound studio proved that they really understand our music, that was very important for us. "
A&R "Worm" stated: "Curse of the forgotten are a very young and talented band from one of my favourite countries: Holland. Usually we don't sign bands formed by young guys here at Wormholedeath, and they know it, but in this case we had to make an exception since those guys are professional and serious. We have been working hard with them and Realsound to help to realize their ideas. The album came out just amazing and we are also happy with the visual concept of the band as well. From now on we will be working to convince the skeptical music business that Curse Of The Forgotten are true and not just another drop of water in the ocean. Yes, we will be building the palace slowly but relentlessy."