Here's a short conversation with Kirk Windstein from Crowbar before their Budapest show (04.07.2010)
What is it like to celebrate the 4th of July on a European tour if you celebrate it at all?
Kirk Windstein: I don't. I put on Facebook "Happy 4th of July to my American friends" and when I'm home I'm going to have "Barbecue day" and "Baseball Day".
You have been to Europe in April as well, and you celebrated your birthday with Sepultura in Germany.
Yes. It was great because Andreas (Kisser) said: "Hey man, do you wanna play Orgasmatron by Motörhead?" And I said: "Yeah, of course." The only thing that sucked with that was that Peter Steele died. On my birthday!..
When can we expect the new Crowbar album to come out?
It's all written. It's a matter of getting the time to do it. When I get home I will have nine days total which I want to spend with my daughter and my fiancee as much as possible. Then I'm back to London with Down. It's going so busy… We finally signed a deal with E1 in America and Century Media for the rest of the world with Crowbar. That's a good big label. We'll also have a brand new live album with a couple of new studio tracks on Housecore Records which will re-release some old Crowbar shit. It's a very small label but it's good. It's run by Phil (Anselmo), he's in charge which makes it good because you know that anything that comes out is going be underground. It's an underground label. It's going to be underground, it's going to be good quality shit, something he likes.
When you started playing music, one of your first bands was Wrequiem. How did Crowbar developed from it?
Wrequiem was basically Crowbar. First we changed the name to The Slugs, then to Crowbar but we played the same songs.
Why did you change the band name?
We started calling ourselves The Slugs, the we got a small record deal with an underground label. They said: "Look, there is already a band out there called the The Slugs, so can you call your band another name?" And I said: "sure." Actually, I was playing in a band called Crowbar. I played drums, Jimmy (Bower) played guitar, Sexy T played bass and we had this big, really dark skin black guy singing. It was his anti Skrewdriver band with a "fuck racism, I hate everybody" attitude.
What is happening with those other New Orleans based bands you started with at the same time or which came shortly after Crowbar, e.g. Graveyard Rodeo, Stressball, Tungsten?
None of them exist anymore. We're still friends with some of the guys but none of those bands exist.
And what is new on the New Orleans scene?
Honestly, I don't know. I'm 45 years old, I don't go out that much and I'm not part of the scene anymore. It's not that I'm a dick about this but I don't have time. I have my routine, I have my lady, I cut the grass, I clean the house, I go to the grocer… I'm a regular guy. But I don't go to shows that much anymore.
Do you know anything about Sexy T? What is he doing currently?
We spoke a couple of times recently, for the first time in like ten years and he's doing well. He had a stomach surgery and lost weight which is good. He's kind of happy away from it. He couldn't smoke pot, he couldn't drink beer, he got bored with it. When things were actually on the up for Crowbar, it was fantastic but he really had no money for us, so he said he will get married and work a regular job. And I said: "Dude, I respect you for that". So, he's doing well.
Back then, you had lots of different projects with former Crowbar members, Phil Anselmo and nearly all musicians from the New Orleans metal scene, e.g. Christ Inversion, Both Legs Broken…
Yes but nowadays my day is full with other businesses… Just being a husband and a father, enjoying life at 45.
You are going to play Ozzfest in the US with Kingdom Of Sorrow. Any chance to do a European tour?
Yeah, we'll do it at some point. Down is my main priority and Crowbar is right behind it now.
What was it like to work with Jamey? What kind of person is he?
He's a great businessman and a fucking Nazi slave driver. He makes the best out of it, that's how you have to work with him. I'm all laid back and he's like "Hurry up, hurry up!.." It was great, though.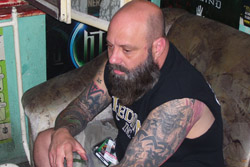 You have an official Crowbar web site. Do you still find it important to keep a web site while Myspace and Facebook are more popular than anything else?
I'm on Facebook more. I just tell people what is going on, where I am, what was the show like, how I miss my girl and my daughter… But I don't really fuck with it much.
Of course, your fiancee and your daughter miss you a lot, too. Isn't it a problem for them that you are not as often home as you should?
They understand it. They don't like it but it's a fact of life. This is what I do. It sucks for me because the only time I really enjoy touring is when I'm on stage and that's only one hour. So, the rest of the day is missing my beautiful fiancee, my daughter, my friends… It's another hotel and a different place every day…
What is the thing that still keeps you inspired after all these years?
For me, it's the same thing from the start: when I hear a fucking guitar riff, my dick gets up. Ever since I was a kid. The thing that inspires me and makes me carry on is the fact that I love writing music, playing music, performing music and I realize how blessed and fortunate I am to be able to. I don't have any friends that can say that they opened for AC/DC in Romania or fucking rode the same plane with Ronnie James Dio. I feel very blessed for that and I'm very thankful.
www.crowbarmusic.com
www.myspace.com/crowbar