Thrash masters CRIMINAL originally formed in Chile and now based in the UK have made two songs off their new studio album "Akelarre" available for free download on their
Facebook page
. "Akelarre" is the band's seventh studio album and the first since the departure of lead guitarist and founding member Rodrigo Contreras and the subsequent addition of Basque guitar wizard Olmo Cascallar.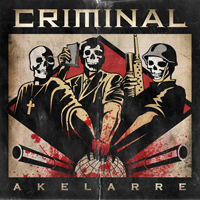 Tracklist:
01.Order From Chaos
02.Resistance Is Futile
03.The Ghost We Summoned
04.Akelarre
05.State Of Siege
06.Tyrannicide
07.Feel The Void
08.The Power Of The Dog
09.Vows Of Silence
10.La Santa Muerte
Akelarre will be released on August 19th, 2011 by Massacre Records.