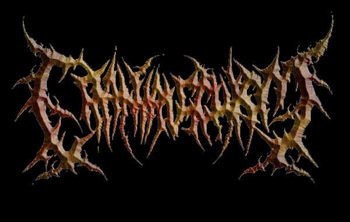 Greetings and welcome to Extreminal Webzine ! As a starter, please present your band to our readers ?
Yudha Leonardi : Greetings from Indonesia, especially from me as the bassist of Cranial Schism. Hail Extreminal Webzine ! I'm happy to answer your questions. Okay, I will introduce my lovely band, Cranial Schism that I've made on May 2009. Cranial Schism is the Death Metal band that formed by Hendri Septriadi as the vocalist with guttural and growl character, Putro Tangkilisan as the guitarist, Abraham Simatupang as the drummer, and me, Yudha Leonardi as the bassist.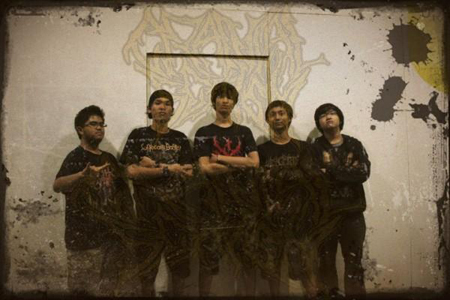 You have two split releases out. Do you plan to record a debut full-length album and if yes – when will it be released ?

Yes, we plan to release our debut full-length album next year. I hope that plan will be the truth next year.
Do you have a label to support you ? Are there many extreme metal labels in Indonesia and which one is the best one ?
Yes, we have a label from Pakistan to support us. The label's name is Vengeance Music. But, we will search Indonesian label too to work with us for our debut full-length album. What do you think about extreme metal labels in Indonesia ? You must know that there are many extreme metal labels here. I think that Rottrevore records is the best one. I hope someday we can work with them. lol
How does a CRANIAL SCHISM concert looks like? Share some crazy stories from your live gigs.
You must see our performance every our concerts, so you can know it by yourself. There are many crazy stories from our live gigs. If you ever checked our live performance's videos on youtube page, maybe you will know that Indonesian crowds are crazy. You must see us too because you can see our happiness in our faces. lol
Have you ever played somewhere outside Indonesia and where ?
We never play somewhere outside Indonesia. But, we plan to play in Australia next year. I hope that will be the truth soon.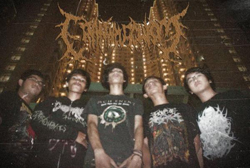 Where do you gain inspiration to write your music and lyrics ? What are your lyrics about ?
Our music influenced by Necrophagist, Dying Fetus, Misery Index, Pathology, and Nile. They are totally awesome bands. But, we won't make our music like them because we believe that we can make something new and I hope we can be better than them. About the lyrics, our lyrics are about the fluctuation in Middle East from the tragedy of 'Crusade' until the last tragedy of 'Gaza'.
What's the state of the Indonesian extreme metal scene? Are there enough fans going at gigs and are there good venues to play at ?
I think Bandung is the state of the Indonesian extreme metal scene right now. Of course, there are many fans will go to the gigs and there are so many good venues here. I hope you can come here someday and see it by yourself.
Which one is the biggest metal band from Indonesia in your opinion ?
I think the biggest metal band from Indonesia is BurgerKill. lol
Who are the bands that have inspired you to start playing music and still influence you today ?
I don't know very well, but maybe Metallica is my inspiration and influence to start playing music.
Which is the metal album of 2010 that impressed you the most ?
I think the new album of Pathology entitled 'Legacy of The Ancients' made me so crazy. I love every track in their album. I just mean them in this album as the killer.
What do you dream to achieve with CRANIAL SCHISM ?
I just hope that I can make many albums with Cranial Schism and spread the peace with our songs to the worldwide.
Your final words to our readers ?
Thanks for everything Extreminal Webzine. I'm happy for taking the time to answer your questions. I hope that our readers will get our stuff soon. For this time, you just can hear Cranial Schism's songs at http://www.reverbnation.com/cranialschism and
Cheers!