Reviews
COSMIC FUNERAL "Godless War To Eternity"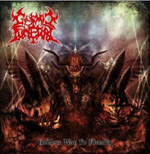 Self-released – 2012 – Turkey
Cosmic Funeral is a Black Metal (Symphonic) band from Turkey and their ep 'Godless War to Eternity' is a welcome change, at least for me from the entire Core that's going on right now. Formed in the year 2009 this is the 2nd Ep from the band after 2009's 'From Ashes to Fire'.
The Ep starts off with 'The Prophesy 'an impressive score that lays an eerie welcome whirlpool of thoughts of expectations to come our way as we further explore the dark symphonies that this release beholds.
'Doomsday' blasts off mercilessly and quickly turns into a churning demented guitar led four minute demolition. One of the stronger tracks from the record, the track is a build up to what the next three tracks is to serve.
'Negligence of Centruies' is the second track from the record. The song structure is simple and that's what makes it easy-listen. A remarkable and strong keys led composition, the track is extremely melodious and as far as I understand the lyrics, there's some Turks patriotism in it (pardon me if I didn't get the correct theme of the matter here). One of my fav track off the record.
The title track 'Godless War to Eternity' starts in a rather Rock n' Roll approach reminding of early DarkThrone record; before turning into this haunting melodic chants that drives you along the Godless path to eternity!
The final track 'Serenade to Fallen', though not my fav track off the record has its moments with the keys symphonies that add a flavor of chilling grief (s) of the fallen, dark and full of melancholic trauma of loss.
Recommended to all who are into symphonic Black Metal; The Ep contains some memorable symphonies that are worth listening. The Ep is somber & dark, raw and delivers when it really counts.
8/10