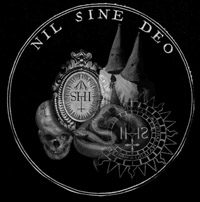 Greetings, you recently brought out a Split CD with the band Ars Macabra, what can you tell me about that CD?
I'd like to mention that this split CD is our first official release.It contains 3 songs form each band and was released by Grom Records on October 2011.
Are you familiar with the work of this other band and how did it come to this Split CD?
We were familiar with the work of Ars Macabra before and I'd like to mention that these 3 songs they have in that split, in my opinion are some of the best songs they have so far.
It all began when we were in search of a label to release our demo "Eliminate The Traces Of reality" as an EP when we got in touch with Grom Records.After a conversation we had, Grom Records suggested to collaborate with Ars Macabra for a split CD and that's how it was done.
On that Split CD are 3 songs from your band. What can you tell us about them?
I believe that these songs vary from each other, but maintaining our style at the same time.
We have speed variations from slow to fast and vice versa and in many parts there is also variety in vocals.I'm sure that anyone who listens to our songs will find out more than these things.Thats why I don't to say much about our songs, if someone wants to know, should listen to our songs.
Could you give us maybe some info about the history of your band?
Cosmic Ekpyrosis were created at the beginning of 2011 and at the middle of March we had already material for working and recording.
I noticed that most of the new Greek Black Metal bands doesn't use anymore keyboards while on the other hand, most of the known Black Metal bands from the past from Greece use them. How do you look on this?
I don't thing that is a certain reason about that.Times change , so does music.
Is Cosmic Ekpyrosis a live band?
At this moment we are not a live band , but if something good comes up we will participate.
Do you have any plans for the near future that you would like to reveal?
We are writing matterial for a full length album and I believe that it will be completed till the end of 2012.
Any last words?
Yes, we'd like to thank you for your interest and your support and everyone who listen to our music and supports the Black Metal scene.
Regards