Reviews
COSMIC ATROPHY "Codex Incubo"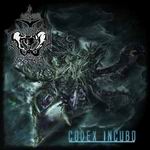 Suffering Jesus / Metalbolic – 2008 – USA
For two guys who just happened to play music by accident (guitarist Juan Garcia left his native Colombia for the US, thereby meeting brains-of-the-band Corey Richards), Cosmic Atrophy's "Codex Incubo" proves an imaginative reinvention of death metal that's so far-removed from the norm, it will likely leave many jaws hanging slack. Where most cookie cutter bands fill their cookie cutter albums to the brim with scorching blastbeats and throaty vocals, Cosmic Atrophy's unique take on extreme metal involves this chilling atmosphere and imaginative concepts whose origins lie in the vastness of space. While songs like "Prelude to Phantasmagoria" and the grooving "Shattering of Terrestrial reality" are filling the listener's mind with the specter of unspeakable evil, imagining UFO's, flying saucers, Leonard Nimoy from Start Trek, and the soundtrack to "The Twilight Zone" helps sooth the unease
Even better, amidst Cosmic Atrophy's musical landscape, the two hombres behind this project find the time to include touches of complexity here and there. Perhaps a lone bass noodle, a subtle guitar solo, creepy sound effects…Every tiny detail conspires to grab the listener's imagination in the vice like grip of such awesome tracks as the epic "Cydonic Adulations" or the suspenseful "Doomed By the Cancer Domus." Perfecting its predecessors' attempts at conveying the strange, "The Granfalloon" arrives in a frightening gaggle of grumbles from icy voices then shifts to an intrepid melody that spins toward a surprising finish. It's mood is so pervasive, so heavy, a much-deserved sigh of relief would greet its ending. Once "Adrift In the Lifeless Sea of Black" is a minute deep into its running time the listener can relax from knowing it's the tail end of one weird trip.
"Codex Incubo" is an album worth checking out for those unafraid to broaden their death metal palette. The word on the grapevine is the Cosmic Atrophy lads are working on a follow up that'll be released soon. In the meantime, the world can taste this cold musical dish of their creation.
7/10