Reviews
CONTORSION "Solace Through Lies"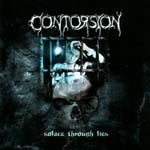 Non Stop Music Records – 2009 – Switzerland
One of the rare bands I could have an opportunity to make a review from Switzerland, Contorsion is found in 2004, they released a demo in 2007 and they released their first album last year. I liked the bootleg image more than the album cover.
In the 11 song album, the band do a different thrash metal than the other bands I listened to and reviewed before. To detail that, they modernised Metallica, Megadeth, Slayer and maybe Testament's 80s thrash metal but you can see James Hetfield influence on the vocals, you can see it in the compositions of the songs. Clarity of the bass guitar and harmony with the drum is very well, and there are more modern thrash metal solos…
My favourite song is "Law Of Nature". To sum up, I can suggest the band, which do a more modern of a style that has many fans.
7.5/10