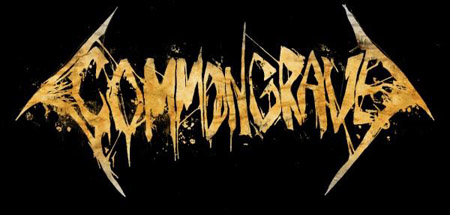 This interview previously published in Polish Conflagration Web'zine (16.05.2010). Click here to read it in Polish.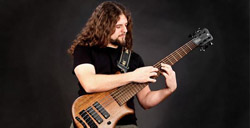 Hi! What`s up? What about the weather in Germany? Do you hate the snow as me? 🙂 But I would rather that than rainy, wet mud hehehe… What could you tell about Regensburg? Is it small town?
Georg: Hi, well here in Germany we suffer at the moment from a lot of snow. The streets an cities are full of mountains of snow. I am personally not so into winter sports and so I am not a big fan of winter. I am more the warm weather, summer guy, ha-ha. About Regensburg I can tell you that it's a very pretty old town, with small streets and nice places where you can enjoy some quality free time.
Yesterday you played with Napalm Death. How was on stage and what about the afterparty hehe? Is Napalm Death important band for you?
Yeah the show was pretty cool!! I think there were about 350 people and the venue was crowded as we started our set. After some warm-up songs, the audience got pretty wild and formed a incredible circle pit, but nothing compared to the one during the Napalm show. Unfortunately we had to leave during the Show of Napalm Death but I think the party was pretty awesome and long! During the first years of my musical career and also the time I first got into more extreme music, Napalm Death was always present, whether in rehearsal rooms, on trips to shows or on parties. It was a great honour for us to share the stage with the guys.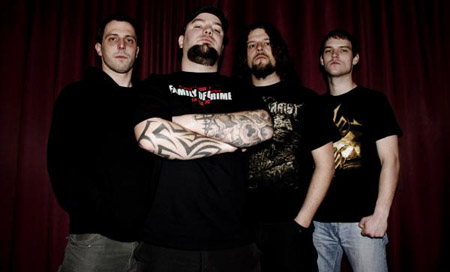 You had a succesful trip in Bosnia & Herzegovina. What could you tell about this tour, fans, gigs? What about the country which seems very experienced by war? Did you notice it?
First we came to Bosnia & Herzegovina, we were pretty shocked which cruelties people can commit and you can see the destructions and marks of the war everywhere. The tour itself was great. We had a great time, met some really cool people and the fans there are amazing. They went totally wild at our shows.
You are playing from 1999. What could you tell about your line-up problems and any others which was stopping your band? Do you feel you've gotten a stable line-up by now?
As in every band, people grow up and sometimes the individual interests shift, but when you find new talented musicians with whom you can hang out and have some fun then you know why the line up changes and evolution within the band is neccesary. Of course the departure of a bandmember is a loss and throws you back a little, but after a while you come back on stage with more power then ever, like we do know!!! haha
Compared to Dehumanized where do you think the biggest difference in your music is nowadays? In which aspects is the biggest progress?
With "Embedded Coding" the approach to the CD and the music was a little bit different. As we grew all on our instruments, we try to write better songs and also try to make them interesting for us to play and also for the audience, listening to it. The main aim is of course that the songs kill on stage, but you also should be able to listen to the CD more then once at home. I think with "Embedded Coding" we came the final goal a step closer. Another aspekt is that the songwriting in the band got more professional and also the songwriting duties (riffs, lyrics etc.) was split up much more better, so you got this natural variety.
How is the process of creating songs? Do you write in the practice room or at home? How often have you rehearshals? Have you any party`s by the way? 🙂
We are writing songs at home. Then we send the notes to each other, so everybody can prepare themselves for the rehearsals, which are normally every second week. Then we practice for 2-3 days straight through. That is the only way for us to practice, because we all live scattered across Bavaria.
You play very difficult music, do you exercise a lot? Have you graduated and music schools? It is difficult to play your songs live?
We just had regular instrumental education and of course a lot of comes from listening to our heroes and play along to CDs. We always try to improve or performance on stage and get tighter every night so it sometimes it is a little struggle especially if you didn't warm up enough.
What about the studio and process of recording "Embedden Coding"? Do you think you got the production you were looking for? Did you toy around with the sound and did you get the result you were looking for?
The production process itself was much more mature then with the last album. In the studios we tried some sounds and different arrangements. Of course, there are always some things you could change afterwards but we are all happy with the final mix of the album. We looked for a clear but still brutal sound and I think we did it.
How have the general reactions to the CD been so far?
They were all very positive and good, national and international.
You have released this album by D.I.Y. Why don`t send it for any labels? What are the good and bad sides of that?
No,I think you got misinformed. "Embedded Coding" was released by our label Twilight Records.
What're your personal favourite tracks from the album? And why? 🙂
My personal favorites are "Dethroning Dualty" because of its straight forward attitude and "Casualty" due to its different styles mixed in one song.
You have a guest appearances on your album. How did it happen Elliot from Beneath The Massacre and John from Dying Fetus partipated in recording your album?
We met the guys during our participation on the Summer Slaughter Canada Tour, back in 2008. We talked a lot and asked them if they would lend us some vocals….they thought it was a good idea and contributed some brutal lines to the album.
You played with very interesting bands like Job For A Cowboy or Necrophagist, what's one valuable lesson you've learned from those guys ?
That you often must go through tough times when you play a tour. Of course we learned a lot about performances on stage and that we have to practice much more hahahaha.
Do you know Italian black metal band Common Grave? What do you think about the common names of bands? You know Gorgasm, Disgorge etc. Did you confuse band anytime because of that? 🙂
I know the Italian band, but there has not been any confusion so far. We once had contact to them, but that was all.
What about the name? What was the inspiration? With whom would you like to have a common grave?:)
As I am no founding member, I don't exactly now what the original idea behind the name was, but I assume it was the same as with most death metal band names..it should sound brutal!!
Your first album has a cover with a small photos with anti-war, anti-capitalism manifest (?)… What would you like to tell people by that? What about your political preferences? Are you interested in?
We often got misunderstood about that cover. It is no political statement or whatever. The pictures just show what perversions humanity can do and as politics and war go hand in hand it was just natural to show this aspekt too.
How big a role do the lyrics play for the band, and music? What about the topics of them and inspirations to write?
For us lyrics just have to fit and complete the music. The lyrics for "Embedded Coding" were written by Flo and he was inspired by a lot of different stuff, especially books and movies. We don't try to bring some sort of message to the fans, we just want to play brutal and fast music.
What's some of your favorites lately on your iPod right now?
I recently got the last Fear Factory and I like it, because it's more like the "Demanufacture" era. But I don't really have any favorite at the moment, there are too many to mention.
What do you think about the internet and scopes of that? What do you think about Facebook, Myspace, Twitter…? Have you personally profiles?
We have a band profile, but no personal profiles. I think it is a great opportunity and platform for smaller bands to spread their music and also get the chance to get in touch with promoters, magazines etc. On the other hand there are too many bands right now, so you can easily can get lost, surfing on the web for hours and always finding interesting bands.
Ok, now tell me the best best joke you heard last time 🙂
Hm, that's a hard one, but I think it was every line from the latest "Two and a half man" season. hahaha
I see you have big tour in Europe and USA in April and May. Congratulations! How did it happen you participated in? What do you expect from that? Do you support any band or you are supporting?
We got in touch with the guys and asked if we can make a tour together, send them some promos and so on… we expect a lot of fun from that tours and concerts. That we meet interesting different people and always important for us, always try out foreign food;) hahaha
Ok, now tell me about your plans for nearest future and when will you visit Poland? 🙂
In the near future we will try to promote "Embedded Coding" as much as possible and try to play at places we have not been for now. Perhaps it will work out soon that we can meet in Poland and have a drink together.
Thanks a lot for this interview dudes! Anything you'd like to add to conclude this interview?
Check out "Embedded Coding" and stay brutal!!!
Thank you and greetz from
Common Grave