UK based avant-garde black metal outfit, CODE, has inked a worldwide record deal with Agonia Records. Band's as-yet untitled third studio album, is set to be released later this year.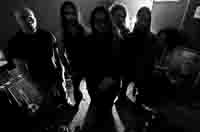 Gathering together a group of UK based musicians with widely varying musical backgrounds, CODE have nearly finished the recording of the new material, which is scheduled to be mixed at Orgone Studios (Ulver, Ghost, Cathedral, Hexvessel) in London, this July. CODE describes the forthcoming release as their
"most dynamic and challenging material to date".
Band's last album, 2009's "Resplendent Grotesque", was nominated for a Spellemann award (Norwegian equivalent to the American Grammy Awards) in the best metal album category.
The band commented: "Code are pleased to announce that we have recently signed a deal with Agonia Records for our next two albums, the first of which will be released later this year. We would like to thank Agonia for their huge support and enthusiasm and very much look forward to working with them to bring you our latest offerings."