"Dawn Of Fury", debut album of Italian death metal band CHRONIC HATE will be released via To React Records on April 25.
Recorded at Saojo Studio and mastered at Hertz Studio(at work with bands like Behemoth, Hate, Vader e Decapitated), the album present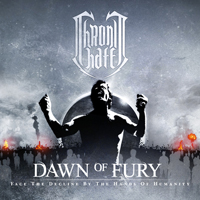 8 tracks of powerful death metal full of blastbeat and granitic riff combined with vitriolic lyrics which represents a face kick to the decline of this society.
Tracklist:
01. Senseless Reasonings
02. S.H.C.
03. Bastard (de)Generation
04. Automated To Death
05. The Failure
06. Authorized Suicide
08. You Must Pay